Peter Behrens
Free and Hanseatic City of Hamburg ● Munich, Bavaria ● Darmstadt, Hesse ● Dusseldorf, North Rhine-Westphalia ● Berlin, Prussia
Entwerfer und Architekt / Designer and Architect
Peter Behrens was born on 14th April, 1868 in St. Georg, Hamburg. On leaving school in Altona in 1886, he studied at the Hamburg "Kunstgewerbeschule" [School for the Applied Arts] before attending the Kunstschule in Karlsruhe and the Düsseldorf Art Academy. In 1890, he married Lilly Kramer and moved to Munich, where he worked as a painter, graphic artist and bookbinder. There on the 13th April 1898 he co-founded the "Vereinigte Werkstätten für Kunst und Handwerk" together with Richard Riemerschmidt and others. In 1899 Behrens was invited to be the second member of the "Darmstädter Künstlerkolonie" (Darmstadt's Artist Colony) created by Ernst Ludwig, Grand Duke of Hesse. There he designed his own house, together with all the furniture, fittings, stained glass windows and contents, even down to the cutlery. This was the turning point in his life. He left the cultural circles of Munich and moved away stylistically from art nouveau towards a sober, more austere style of design. Having no formal qualifications as an architect, he was under considerable pressure from his peers, especially Josef Maria Olbrich and after a short time they began to argue amongst themselves and the group started to break up by 1902. Peter Behrens sold his house, moved to Düsseldorf where he became director of the Kunstgewerberschule in 1903. On the 5/6 October 1907 he co-founded the "Deutscher Werkbund" together with 11 other designers and 12 manufacturing companies.
In 1907, Behrens was appointed artistic consultant to AEG. He designed their entire corporate identity, the logotype, product design, publicity, etc. and is now considered to be the first industrial designer. In the same year he opened an office in Berlin and a year later he, with Anna Simons, designed the letters "DEM DEUTSCHEN VOLKE" on the front of the "Berlin Reichstag". He became a prolific architect. Between the years 1910 and 1936 he created office buildings, factories, embassies, monuments, bridges, churches, giant factories to domestic houses, worker's estates and apartment blocks thoughout Germany and was even involved in designing new road systems in Berlin. He had joined the Nazi Party in 1934 and enjoyed the patronage of Albert Speer. Peter Behrens died from a heart attack in the Hotel Bristol in Berlin on the 27th of February 1940. His grave is in Berlin at the cemetery Wilmersdorf.
Designed for: Simon Peter Gerz I, Reinhold Merkelbach, Marzi & Remy, Merkelbach & Wick, Reinhold Hanke, Gebrüder Bauscher, Darmstadt Künstlerkolonie Glashütte Köln-Ehrenfeld
Reference: Wikipedia Peter Behrens MySteinCollection Peter Behrens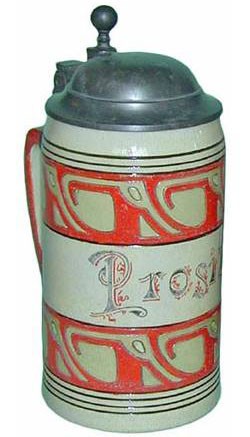 1/2 Litre stein by Marzi & Remy, #"1662" and "GESETZL. GESCHÜTZT" marked on base. The coloured patterns are painted between conventional etched lines, whilst "Prosit" is surface cold painted.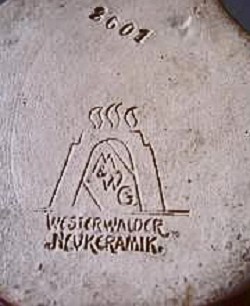 Impressed mark. M&W,G "Westerwalder Neukeramik", attributed to Peter Behrens work for Merkelbach & Wick.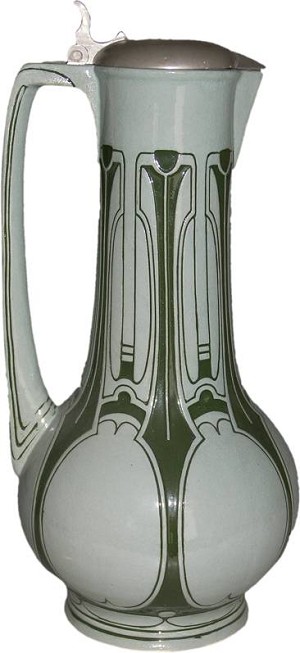 2.5 Litre stein by Simon Peter Gerz I, #"1146B" marked on base, slightly over 12" tall. More commonly seen in blue-grey.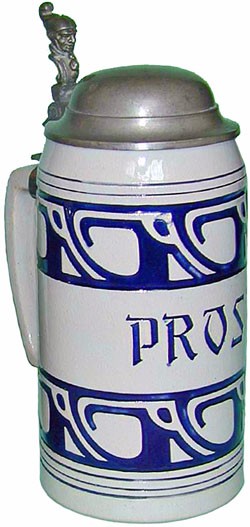 1 Litre stein by Marzi & Remy, #"1663" and "GESETZL. GESCHÜTZT" marked on base. The recessed areas are infilled in Cobalt.