Metallwaaren Erzeuger Johann Stegmann
Budweis, Southern Bohemia. (now České Budějovice, Czech Republic)
Metallwaaren Erzeuger / Metalwork Producer

Johann Stegmann was born 18th April 1823 in České Budějovice and died 5th June 1905 also in České Budějovice
After his apprenticeship as a bronze founder, he gained experience in the Czechoslovakia and afterwards in Germany from 1839 to 1846. In 1847 he founded Johann Stegmann und Söhne, a company producing metal goods. He led it until 1888. From 1861 to 1876 he was a member of the municipal council, then during 1876-1884 he was a councillor and building officer; then from 1884 to 1887 he held the office of Mayor of Ceske Budejovice. Thanks to its activities in the municipal government, the municipal gas works (1868), the construction of sewerage systems (1879), the establishment of several general schools, but mainly 1871-1882 the city's water supply was established. In 1897 he was granted honorary citizenship of Ceske Budejovice, in 1898 he received from the Emperor a golden creditor cross with a crown.
Purchased stein bodies from: Reinhold Merkelbach
Reference: České Budějovice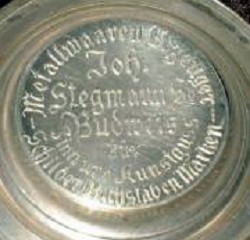 Lid on a Reinhold Merkelbach stein, dated 1895.