(Töpferei) Matthias Girmscheid
Rheinstraße 14, (now 41) Höhr, Hesse-Nassau, Prussia. (now Höhr-Grenzhausen, Rhineland-Palatinate).
Steinzeugwarenfabrik / Stoneware manufacturer
Known dates: Matthias Girmscheid: Born 17-8-1845. Died 12-12-1928. Karl Girmscheid: Born ?. Died 1949.
A merchandising company was started in 1870, pipe manufacturing however did not commence until 1884 with stein manufacturing some years later. Between 1920 and 1931, the company was in various partnerships, notably with Simon Peter Gilles & Sohn (wholesaler and pewterer) and Alfons & Eduard Michels (a stoneware wholesaler, glass decorator, pewterer and pipe wholesaler) after which time they continued to operate separately. Karl Girmscheid took over in 1928, until his death in 1949 and was followed by Frau Cornelia Girmscheid until 1954 or 1955. On 21st December 2007 the decision was made to liquidate Merkelbach Manufaktur GmbH. Immediately afterwards, Mrs Judith Engelmann (née Merkelbach) gave all their moulds to Töpferei M. Girmscheid who are using some of them today, to produce their "Merkelbach Jugendstil" and "Merkelbach by Girmscheid" ranges. This was because Joachim Ermert, who was then running the workshop of M. Girmscheid, had served his apprenticeship and had become a Geschirrkeramformer (Master Tableware Ceramic Moulder) at Merkelbach. Afterwards, in 1982, he moved to Töpferei M. Girmscheid and around 1990 became the tenant and general manager of Töpferei M. Girmscheid, which at that time was a subsidiary of the publishing group, Wittich.

The following designers, directly or indirectly, designed pottery for Matthias Girmscheid: Anton Kilian "Karl" Beuler Adolph Dekker
G.K.(name unknown) A.S.(name unknown) T.W. (name unknown) Christian Warth Quidenus

References: M. Girmscheid Character Steins Capacity Marks Twisted vine handles Westerwald Adressbuch

Matthias Girmscheid #163, designed by Killian Beuler.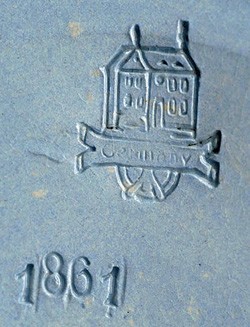 Impressed basemark on Matthias Girmscheid cameo stein #1861.Girmscheid Abbey and the Villeroy & Boch - Mettlach Abbey marks are occasionally confused.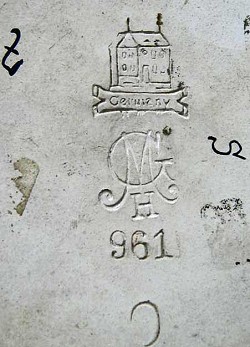 Unusually combined impressed Abbey mark together with impressed MG initials on Girmscheid #961. The Girmscheid Abbey and the Mettlach Abbey marks are occasionally confused.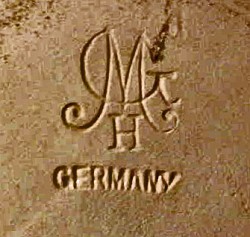 Impressed mark - Individual stein going with Girmscheid #457 Master stein.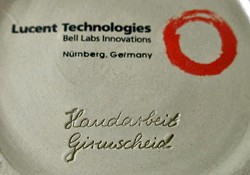 Modern incised mark.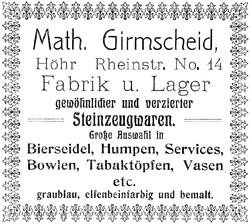 An advertisement from Führer durch Höhr, dated 1907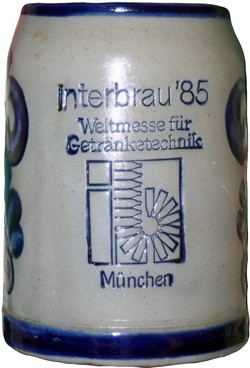 Interbrau. Weitmesse fur Getranketechnik '85. "Interbrau" The world's fair of Drink Technology. Dated 1985.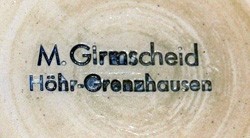 Basemark on modern stein immediately above.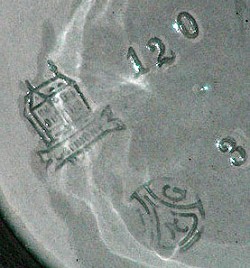 Matthias Girmscheid #120 complete with Jacob Goldschmidt impressed mark.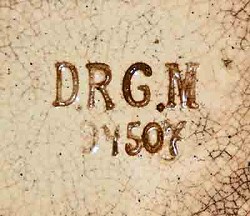 Published in 'Sechste Beilage zum Deutschen Reichs-Anzeiger und Königlich Preußischen Staats-Anzeiger Nr.126", Berlin 31st May 1898, / "Central-Handels-Register für das Deutsche Reich (Nr.126C)", / "Gebrauchsmuster". Re. DRGM 94507: "80. 94507 Arbeitsform zur Herstellung von Bierseideln und anderen keramischen Gefäßen mit Hohlfuß, gekennzeichnet durch eine Erhöhung an der Bodenplatte. M. Girmscheid, Höhr. 14.3.98 - G. 4980." Re. DRGM 94507, issued on 14th March 1898 to M. Girmscheid, Höhr, was a method of creating a raised hollow base on beer steins and other vessels.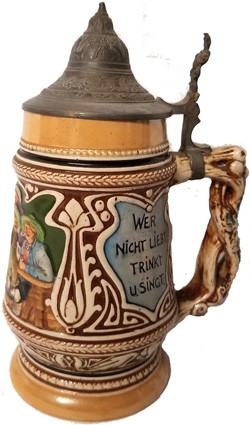 M. Girmscheid #660, complete with impressed curved "GERMANY" in serif font, and star marks. Whilst this is not a maker's mark, it is certainly an identifier.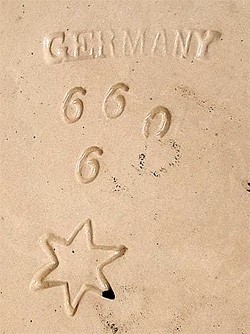 Base marks on the stein immediately above. This star has been seen on other Girmscheid steins.

Matthias Girmscheid #1264, designed by Killian Beuler, "Young Siegfried slays the dragon" over 20" tall.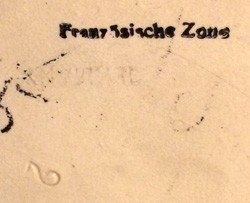 French Zone of occupation of Germany after WW!!, dated 1946 to 1949.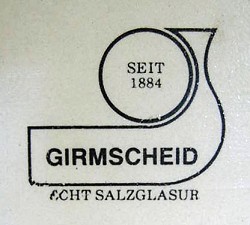 Ink stamp, presumed dated 1924, due to a centennial stoneware stein etched "Veltins, 1824-1924".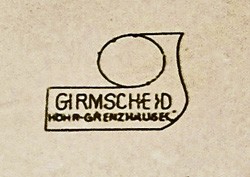 Ink stamp probably dated 1936 -1954.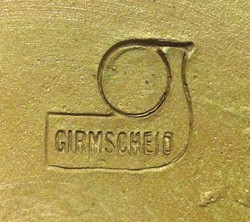 Impressed mark, dated 1924 - 1954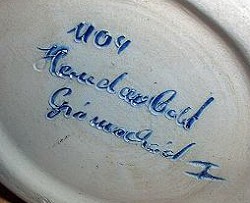 Modern incised mark.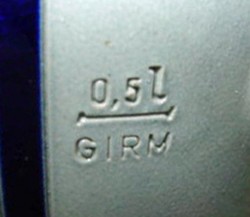 Modern impressed mark.