Jakob Becker / Adam Jakob Becker, Firma: J. Becker
Schlierbach 10, Karlstraße 3, Ingrimstraße 9 & Hauptstraße 153, Heidelberg. Baden. (now Baden - Württemberg).
Dreher, Elfenbeinschnitzer und Wappenmaler / Turner, ivory carver and painter of coats of arms.
Jakob Becker is first recorded in 1870 as a Drehergehülfe / Apprentice Turner, presumably as an employee. He lived at Schlierbach 10, a tiny suburb on the eastern outskirts of old Heidelberg. In 1878 he briefly occupied Karlstraße 3, then moved to Ingrimstraße 9, both in the centre of old Heidelberg. It is assumed the firm of J. Becker was inaugurated at this time, as he now listed himself as a turner. In 1881 he added ivory carver to his listing. In 1891 he purchased Hauptstraße 153 and moved himself and the business to that address. In 1898, his listing changed to Dreherei und Elfenbeinschnitzerei, possibly to reflect that his son had joined the business. In 1904, Jakob Becker listed himself as a Drehermeister or Master Turner, although he possibly had had this qualification for some time.
He, however had retired by 1907 because his son Adam Jakob Becker, also a Master Turner, was now running the business. The company also advertised for the first time, as painters of coats of arms in 1907, but it is well documented that they had carried out this profession for many years previously. Jakob Becker Snr. presumably died since his personal listing disappeared from 1917. The business continued as a Dreherei, Elfenbeinschnitzerei und Wappenmalerei until around 1922, when Wappenmalerei was dropped from the listing, although steins were painted after this date. Elfenbeinschnitzerei also disappeared in 1939, when A.J.Becker listed himself solely as a Drehermeister. He sold Hauptstraße 153 to Bezirkssparkasse Heidelberg / the District Savings Bank of Heidelberg in 1940, but rented back the first and second floors. From 1941 he called himself the subtly different title of Drechslermeister and the business became an Elfenbeinschnitzer und Elfenbeinwarenlager, possibly to sell existing stock. The last known recorded date was 1943.
Purchased stein bodies from: Villeroy & Boch - Mettlach, Reinhold Merkelbach
Reference: Heidelberger Adressbücher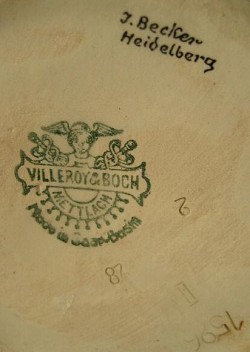 Artist's signature on a Villeroy & Boch - Mettlach #1526 student stein, dated 1928.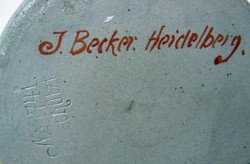 Artist's signature on a Reinhold Merkelbach student stein.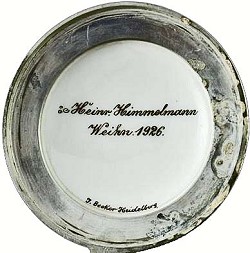 Underside of featured lid on student stein dated 1926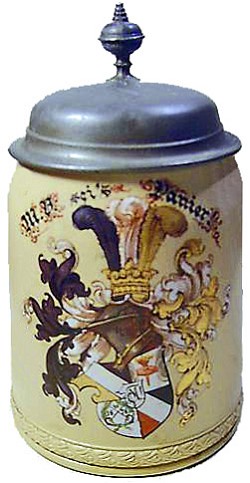 Student stein, dated 1903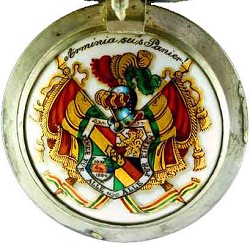 Lid on student stein dated 1926
Artist's signature on a Villeroy & Boch - Mettlach #1526 student stein, dated 1903.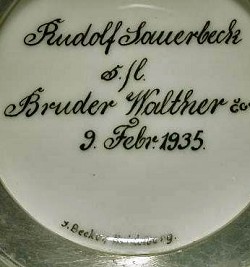 Artist's signature on a student stein lid, dated 1935.