Brandmüller Zinngießerei
Bussardweg 12, Aschaffenburg, Bavaria
Zinngießerei. / Pewterer.
In 1898 Johann Brandmüller founded the Aschaffenburg Pewter Foundry. Circa 1912 it was run by Johann's son, H. Brandmüller. His son Klaus graduated from a two-year training course in design and technical drawing at the Academy in Hanau after his apprenticeship in Nuremberg (1959-1962). He completed the master's examination in the craft of pewter casting in 1966 and entered the family business. In 1970 he became the third generation to run the company. This pewter foundry is the only one of its kind in Lower Franconia and in the Rhine-Main area and is still in business today.
Stein bodies purchased from: Merkelbach & Wick
Reference: Brandmüller Zinngießerei.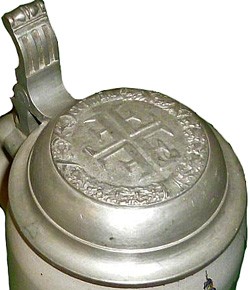 4F lid on featured stein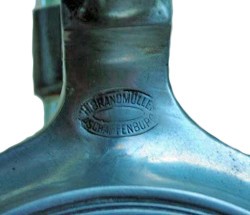 H. Brandmuller Aschaffenburg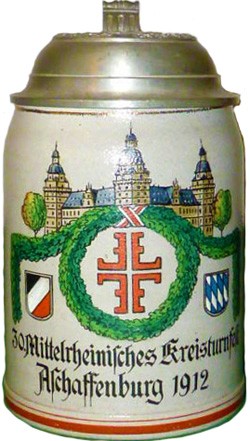 4F Turnfest stein. 30th Mittelrheinisches KreisturnfestAschaffenburg 1912.The castle is Schloss Johannisburg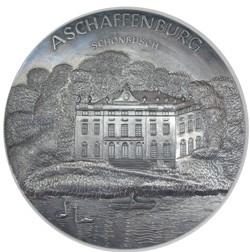 A modern decorative pewter plate by Brandmüller Zinngießerei.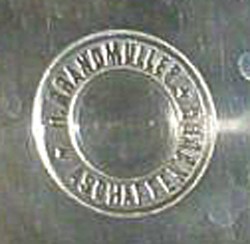 Pewterer's cast mark on the underside of the lid on the featured stein.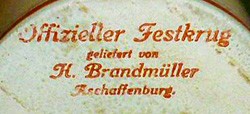 The base of the featured stein's marking, showing the designation of the festival's official stein by H.Brandmuller