Annie Offterdinger
Hanau, Berlin, Paris and Zurich`
Kunstkeramikerin und Modezeichnerin / Art ceramicist and fashion designer
Born 20th February 1894 in Hanau, daughter of Professor August Offterdinger, head of class at the Hanau Academy of Fine Arts. She attended the Hanau Academy of Fine Arts, and then the School of Ceramics in Hohr, between October 1912 and the 31st July 1914, during or after which she designed various pieces for the Wachtersbach Ceramic factory. Amongst these were figurines well dressed in the high fashion of the time. This clearly whetted her appetite for fashion. So that when she then went to Berlin in 1915 she switched solely to clothes fashion. She had various jobs at magazines, costume designers for theatre, ballet, etc. Later she went to Paris, where she worked extensively as a popular fashion designer. She married the art historian Dr. Hermann Ganz and settled down in Zurich, Switzerland, where she died on the 17th March 1987.
Designed for: Alphons Lötschert, Fritz Hammerschmidt, Steinzeug-Industrie, Wächtersbach
References: Dekorative Kunst. Contributions by Mr. Volker Kirchner, Brachttal.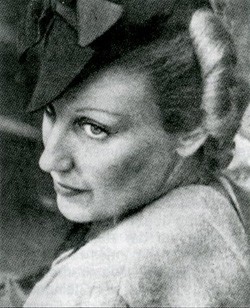 Annie Offterdinger, circa 1940's. ×