Alfons Wilhelm Lötschert.
Gartenstraße. Works: Oststraße 9, Grenzhausen, Hesse-Nassau, Prussia, from 1904 until 1938. In 1939, Oststraße 9 was then renamed Auf der Heide 49, Höhr-Grenzhausen. The street is now called Töpferstraße, Höhr-Grenzhausen, Rhineland-Palatinate.
Hersteller / Manufacturer
Alfons Lötschert's (b.17th April 1863 - d.24th November 1945). company was founded on the 29th March 1912 and was in production until 1919. After S.P Gerz I died in 1893, Lötschert, being S.P.Gerz's son in law, took control of the company Simon Peter Gerz I. However in 1912 he set up in his own name in Gerz's original stoneware works. It has been suggested that he took both some moulds and personnel with him. He sold parts of the property, ie.a kiln and various moulds and materials in 1919 to
Dr Fritz Hammerschmidt who was listed at Oststraße 9, in 1921.
The following designers either designed the pottery for Alfons Wilhelm Lötschert, or put their decoration on standard pieces:
Anni Offterdinger Wilhelm Ratelbeck Trude Study Peter Behrens
Reference: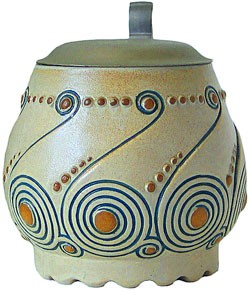 Lötschert #371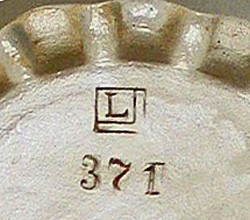 Base of featured Lötschert stein #371.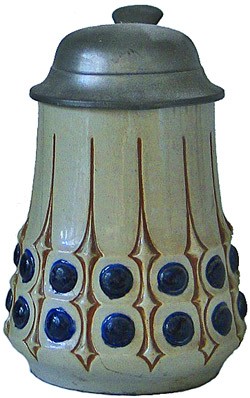 Lötschert #322 0.3 litres The accompanying 2 Litre serving jug #322, designed by Wilhelm Ratelbach, can be seen on the Dr. Fritz Hammerschmidt page and has the same #322 number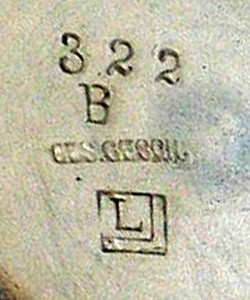 Base of 0.3 litres Lötschert stein #322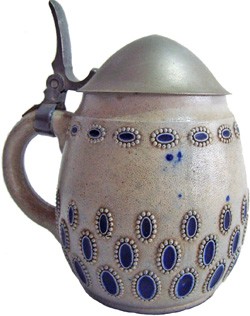 Lötschert #341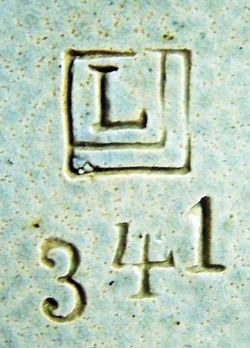 Base of featured Lötschert stein #341.