Clara or Clary von Ruckteschell-Trueb
Dachau, Bavaria
Entwerfer & Topfer / Designer & Potter
Born in Switzerland in 1882,
Clary von Ruckteschell-Truéb worked as an artist in Dachau, Munich and Tanzania. Clary was married to the artist, illustrator, sculptor and author Walter von Ruckteschell (1882-1941) in 1911. The couple had two children, son Roland and daughter Ruth.
Meanwhile in 1904 she had started training at the studio for Free and Applied Arts, in Munich, which she took charge of, in 1907. In 1913, the couple went to the German colony of German East Africa, where Walter was adjutant to Paul von Lettow-Vorbeck and also designed monuments and sculptures for public places and institutions.
The couple settled in Dachau in 1920 and initially lived in Holzgartenstraße, now Ludwig-Dill-Straße. Soon after, they acquired a house on Münchner Straße which they expanded to include a painter's and sculptor's studio, a woodwork workshop for Walter and another for the ceramic works for Clary. Ceramic exhibits created by her, are labelled with the offset letters CRT. Her ceramic works have been exported all over the world. they were mostly vases, garden vases, but also utensils of various kinds. After the loss of her husband Walter (29 September 1941) and her son Roland (09 June 1942) as soldiers in World War II, Clary lived for several years in complete solitude in the village of Carona at the height of Monte Salvatore near Lugano in Switzerland. On 24 November 1969 she died at the house of her daughter Ruth in Geisenbrunn near Munich.
Designed for:

Keramische Werkstätten München - Herrsching


Reference: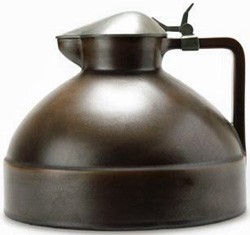 Made at the Keramische Werkstätten München - Herrsching Has been attributed to Clary von Ruckteschell-Trueb
Pouring jug by Clary von Ruckteschell-Trueb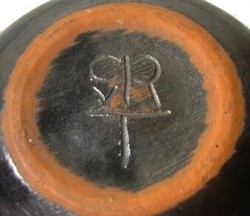 Basemark on the pouring jug (centre)