F. Earl Christy
New York City. United States.
Künstler & Erläuterer / Painter & Illustrator.
Born in Philadelphia, 1882. He attended the Pennsylvania Academy of Arts from 1905 to 1909. He produced many illustrations relating to early college football, majoring on the Ivy League. His works were shown on pillows, postcards, magazine covers, mugs, pitchers etc. He died in Freeport, Long Island in 1961.
Designed for: Thomas Maddock's Sons Company Usona Art Pottery
References: Vintage Image Craft Upenn Stein Collectors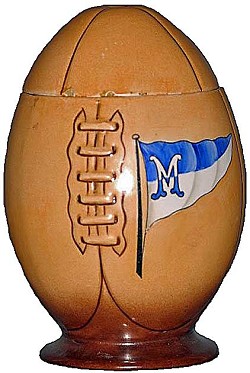 The flag artwork was designed for Thomas Maddox dated 1905.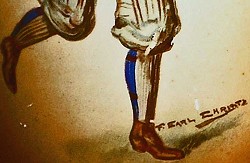 Artist's signature on Usona Art Pottery tankard.