Joseph Aicher (Witwe)
Theresienstraße 16, Ingolstadt. Bavaria.
Zinngießerei / Pewterer
Known dates: 5th August 1862 - 1946?
Joseph Aicher was born on the 11th May 1833, in Rosenheim, son of the master pewterer Joseph Aicher and his wife Theresia, née Ammann.On the 5th August 1862 the licence and the tin caster's concession was conferred on him in Ingolstadt. On 9th September 1862 he married Katharina Erdinger (b.31st March 1832), daughter of the pewterer Georg Erdinger in Ingolstadt and his wife Barbara, née Eder. The married couple had four children:
1. Georg Aicher (b. 14th July 1863 - d.29th May 1946). Georg Aicher was unmarried, took over his parent's company on the first January 1900, and subsequently changed this, on the 26th July 1910, to a porcelain outlet as well as a pewterer. He acquired his licence on the 14th April 1914 in Ingolstadt.
2. Joseph Leonhard Aicher (b. 5th August) 3. Joseph Gustav Aicher (b. 22nd March 1866) 4. Heinrich Aicher (b. 15th July 1867- d. 12th September 1867)
On the 1st August 1867 Katharina Aicher presumably died from complications after childbirth, at the age of 35 years, after five years of marriage.
Joseph Aicher married again on 20th April 1868, to Franziska Bruckmayer, (b.1842) daughter of the landlord Joseph Bruckmayer and his wife
Barbara, née Kastl, from Neuburg an der Donau.
In his second marriage he had the following children: 1. Barbara Aicher (b.15th February 1869 - d.11th December 1869)
2. Adolf Aicher (b.22nd February 1870). Adolf Aicher married in 1902 in Berlin, to Margarethe Wilhelmine Henningsen (b. 3rd January 1877 in Flensburg), daughter of the master tailor, Christian Henningsen and his wife Nicoline, née Henningsen [cousins]
3. Karl Aicher (b. 31st January 1871 - d. 20th February 1871) 4. Ludwig Aicher (b.31st January 1872 - d. 28th February 1873)
5. Michael Aicher (b.17th September 1873). Michael Aicher married in 1900 in Munich to Philomena Brädl (b. 2nd April 1871 in Kötzting), daughter by the master builder Joseph Brädl and his wife Franziska, née Wittmann.
Joseph Aicher died on the 12th September 1873 (his son Michael was born five days after Joseph's death). Joseph's wife Barbara assumed the running of the business. On 1st January 1900 Georg Aicher took over the family business. In 1912, Barbara Aicher died on December 20, 1912, at the age of 71. In 1914, Georg acquired the right of the guarantor on April 14, 1914 in Ingolstadt. On 29th May, 1946 Georg died unmarried.
Purchased stein bodies from: Reinhold Merkelbach
Reference: Bernhard Schwarz (www.zinnfiguren-bleifiguren.com)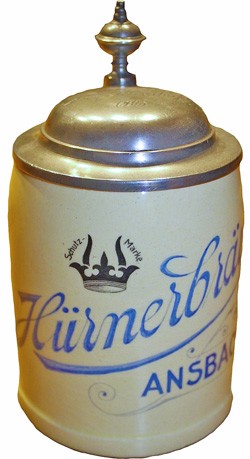 1/2 litre Hürnerbräu brewery stein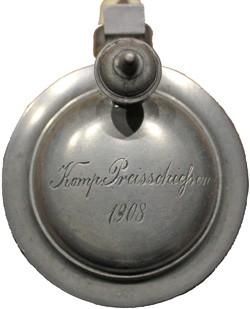 Lid on the Hürnerbräu brewery stein. "Company Prize for Shooting. 1908."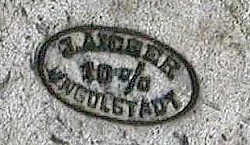 Pewter mark, dated 1904, identical to one on the featured stein, right.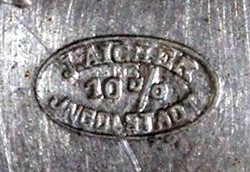 Pewter mark, dated 1904, identical to one on the featured stein, left.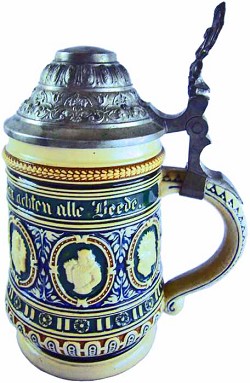 Reinhold Merkelbach #412 P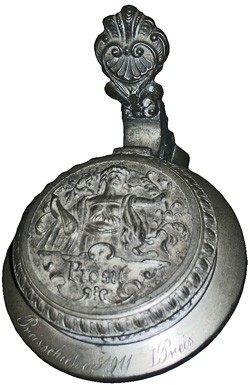 Pewter lid on a "Greetings from Ingolstadt" porcelain stein. Lid is inscribed 1911. It has the same touch mark as the lid on the featured stein.