Gerz & Söhne (Inhaber Maas & Reitz) / Gerz-Krug- und Steinzeugmanufaktur Inhaber Jean Maas (Witwe)
Kirchstraße 1-3, (now Töpferstraße) & Rheinstraße 17 (Marktstraße 10), Mittelstraße 2, Höhr, Hesse-Nassau. (now Höhr-Grenzhausen, Rhineland-Palatinate).
Fabrik Altdeutscher Steingutwaren / Manufacturer of Old German earthenware
The business was started in 1835 by Peter Gerz II (b.7th Feb,1797 - d.16th June,1876) in Kirchstraße 1-3, which is now known as Töpferstraße. Peter was also mayor of Höhr from 1834 to 1848, The pottery officially became Gerz & Söhne in 1852, presumably when some of his sons joined the business. One of his sons was Simon Peter Gerz II. (b.12th Sept. 1833 - d.14th March, 1908); who owned a hotel and restaurant called "Zur Alten Post" at Rheinstraße 5, Höhr. In turn one of Simon Peter II's sons was Alois Jacob Gerz (b.18th March 1871 - 27th December 1913) who in 1901 co-founded Roßkopf und Gerz. In 1873, Philip Jacob Gerz took over the business which at that point had 24 employees. Then in 1886 the company was taken over by Sebastian Maas and Johann Reitz. Starting in 1910, the son of Sebastian Maas, also named Sebastian, but nicknamed "Jean" (b.22nd February 1884) eventually became the general manager, reporting to his father. In 1930 he also became the company secretary. In the same year, he took the company into receivership and reformed it as Gerz-Krug- und Steinzeugmanufaktur Inhaber Jean Maas. The Kirchstraße premises were sold and they rented part of the old premises of Reinhold Hanke at Rheinstraße 17. (This address was called Marktstraße 10 during 1935/36). Their main product was their patented "Gerz Preserving Jars", but they made many other products, including steins.
Jean Maas died in 1953, so his widow Else Maas née Alscheid ran the company up until its closure in 1965.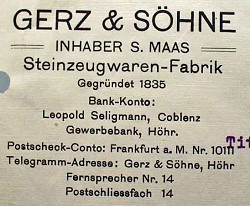 Letterhead of Gerz & Söhne dated 4th March 1926, showing that by this time, only Sebastian Maas owned the company, with Johann Reitz either retired or dead. It is believed that Jean Maas was running the company on a day to day basis by this time.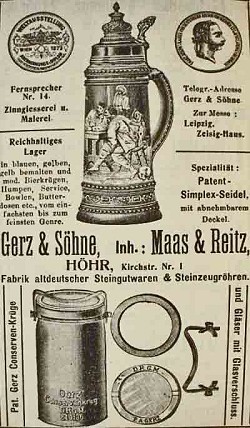 (Click to enlarge. N.B. Close enlargement PRIOR to opening another picture!) advertisement dated 1907.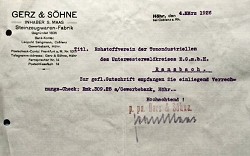 (Click to enlarge. N.B. Close enlargement PRIOR to opening another picture!) Covering letter from Gerz & Söhne, showing the signature of Jean Maas. Text reads: "4th March 1926 Raw Material Association of the Clay Industrialists of the Unterwesterwald District e.G.m.b.H. Ransbach. Please kindly receive the credit note with enclosed crossed cheque for the amount of 309.25 Reichsmarks for account payee only at Gewerbebank Höhr. respectfully (yours) per procura Gerz & Söhne Jean Maas"