Roßkopf und Gerz
Rheinstraße 22, Höhr, Nassau. (now Höhr-Grenzhausen, Rhineland-Palatinate).
Fabrik feiner Steinzeugwaren / Manufacturer of quality stoneware

Roßkopf & Gerz (RuG) was founded in 1901 by potter and designer Karl Wilhelm Roßkopf in partnership with businessman Alois Jacob Gerz (b.18th March 1871). Very little is known about Karl Roßkopf, however Alois Gerz's grandfather was Peter Gerz II of Gerz & Söhne. Both already had a background in the stoneware industry, having been employed by the firm of Reinhold Hanke, and their wide range of products was met by a ready market. In 1905, following the departure of Roßkopf, A. J. Gerz expanded the firm with the addition of a pewter workshop and decorating studio. Their products were marketed by Eckhardt & Engler from 1907. The firm was successful with a range of artistic and utilitarian products, and enjoyed a good reputation. When A.J.Gerz died in 27th December 1913, his children were very young, so his widow ran the company, until the pressures created by the first World War, forced them into bankruptcy in 1917. The known RuG stein mould numbers went as high as #873. Many of these were subsequently purchased by Eckhardt & Engler .

The following designers either designed the pottery for Roßkopf und Gerz, or put their decoration on standard pieces.
Anton Kilian "Karl" Beuler (Johann Wilhelm) Karl Görig Leonhard Hellmuth G.K.(name unknown) Bruno Mauder Albin Camillo Müller Albrecht Simonis

References: Stein Collectors Twisted Vine Handles MySteinCollection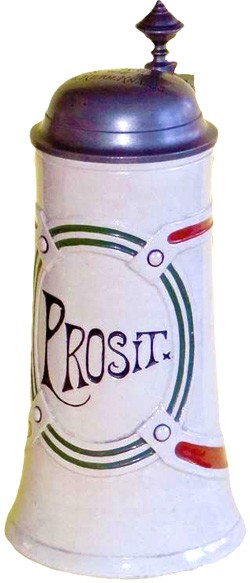 Roßkopf und Gerz #437, relief stein.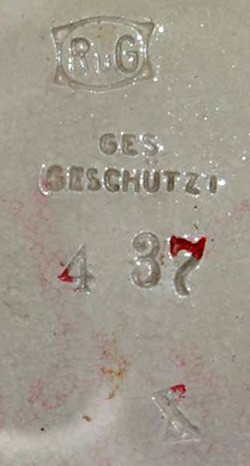 Basemarks on Roßkopf und Gerz #437 above. The style of the Ges. Geschützt notice is unique to Roßkopf & Gerz.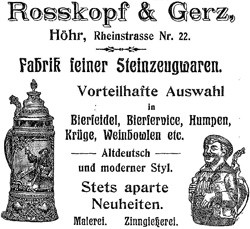 An advertisement from Führer durch Höhr, dated 1907 The right-hand stein is probably R.u.G #423.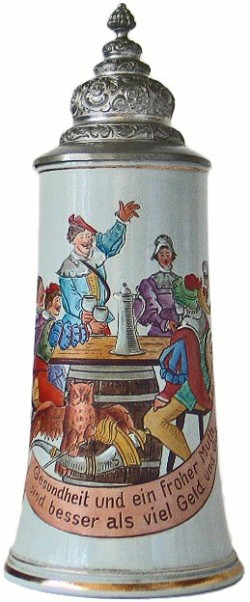 Roßkopf und Gerz #432, incised stein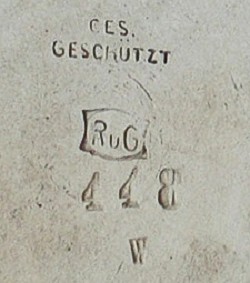 Another example of base marks, this time on #448. The style of the Ges. Geschützt notice is unique to Roßkopf & Gerz.