Grenzhausen, Hesse-Nassau, Prussia. (now Hohr-Grenzhausen, Rhineland Palatinate)
Steinzeugfabrikant / Stoneware manufacturer
Known dates: 1893 - 1910
There were at least four ceramics companies, who had members based in the
Höhr-Grenzhausen area,
who included the name of Remy. These were
all descendents of the original Jacob Remy of the late 1500's. These also included a distributor in Grenzhausen with the name Merkelbach & Remy. They were probably all cousins at some level.

There is currently little known documentation on half of these.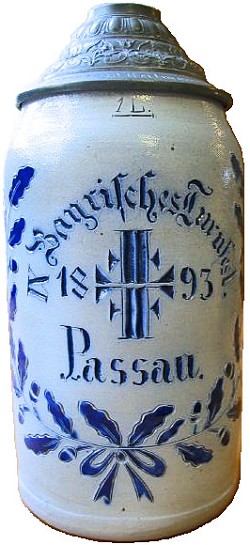 1 Litre, IX. Bayerisches Turnfest Passau 1893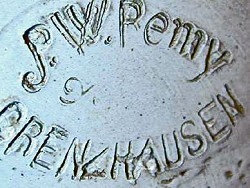 (P. or J.) W. Remy, Grenzhausen, on the Passau stein above.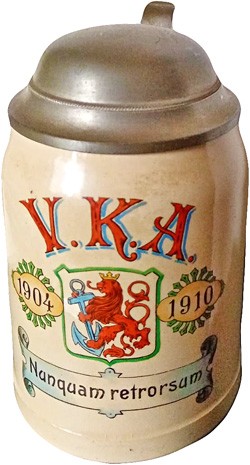 V.K.A. is unknown, but the crest indicating it was located in Düsseldorf, commemorating an event during 1904 - 1910. Nunquam retrorsum "Never Backward".
J. W. Remy, Grenzhausen ` on the underside of the lid of the VKA stein.