Gustav M.Thurnauer Co (Inc.) / G. M.Thurnauer & Bro.


84 Duane Street, New York, United States.
Importeur / Importer
The following text is from Porcelainmarksandmore.com

"Gustav M. Thurnauer in 1883 established business in a small store located at 84 Duane Street, his product range covering everything from wooden rolling pins to cast-iron meat grinders and being an instant success. His business model was simple - sell durable, quality goods for less than other suppliers charged and always make sure that customers find what they need. He even offered a small selection of books with Fairy Tales, something that could keep the children occupied whilst their parents viewed the goods.Knowing the quality provided by German manufacturers, Thurnauer at first strongly relied on German goods alone: carving knives, cutlery and pocket knives from the famous workshops in and around the city of Solingen, the well-known Stadelmann lamps and gas burners, dishes and casseroles from Villeroy & Boch, just to name a few.Thurnauer covered a special, but totally under-served market: it was the first store that fully concentrated on kitchen utensils and everything else required in a kitchen, in various forms, shapes and sizes. With other words: you name it, Thurnauer had it. And business flourished accordingly, eventually requiring a larger store.

G.M. Thurnauer & Bro. (1887 until around 1914).
Shortly before G.M.T. moved to 66 Reade Street in 1887, Otto Thurnauer joined his brother as co-partner, and the newly-established firm soon occupied all four floors (a total of 1,260 m²) on 66-68 Reade Street.An idea Gustav M. Thurnauer picked up earlier should soon revolutionize house work: small metal thingamajigs that did not cost much, but made work a lot easier - kitchen gadgets. What is completely normal for us today, like butter curlers, apple slicers, aspic cutter sets, cookie cutters, was more than welcome innovation. And even if the real craze started during this period, it would still take a few years before a further innovation caused this business segment to really pick up speed.

Local trade was not Thurnauer's only field of operation as he not only imported goods required by his store, he also exported items to Canada and British Columbia. Around 1888, his firm had branch establishments at 66 Rue de Bondy (Paris, France) and 12 Untere Turnstrasse (Nürnberg, Germany). The latter later moved to 16 Solgerstrasse and was still operational in 1930 (then as export business run by C. Abel-Klinger, but still supplying G.M.T.).
Anyway, the business of G.M. Thurnauer & Bro. eventually relocated to 83 Worth Street. The smaller store had included an impressive array of storage jars, butter vats, hot plates and other ceramic goods; the larger store allowed further expansion of the product range in this sector, as can be seen when one takes a look at the dozens of items still around from that period. On July 31st 1908, the co-partnership between Gustav M. Thurnauer and his brother Otto was dissolved after Otto decided to drop out of the company again; the business name however was continued as G.M. Thurnauer & Bro. at first. Business development so far had been already quite impressive, but a further big leap was just around the corner. In 1913, the British steel manufacturers (located in Sheffield, my home town) introduced something that should change the industry forever: chromium alloy steel, today commonly known as "stainless steel". A minor alteration in the process, a small change of formula ... and rusty scissors, knives, cutters and such were history. The impact on the market was tremendous, and G.M.T. staff soon started comparison presentations, something that was continued until around the mid-1950s. Even the "simplest housewife" (their words, not mine) soon recognized the advantages of stainless steel products, and while other retailers tried to earn a fortune at first, Thurnauer barely increased prices. Sales went through the roof, and marketing via the initials 'G.M.T.' soon shifted from "Good Merchandise Thurnauer" towards "Gadgets Make Time".

G.M. Thurnauer Co. Inc. (around 1914 until 19??)
Thurnauer soon decided to change the business form once again. But that is just about all that is known from here onwards - I found no further information on company development, advert examples, etc., which is not unusual. We often forget that not everything is available in digital form or even correctly indexed when one looks things up. Anyway, one of the other things I found was the mentioning of a 14-page booklet named 'Fashions in gadgets', published by G.M. Thurnauer Co. Inc. on November 15th 1964. Take note that this mentioning still quotes the company name as G.M. Thurnauer Co. Inc., whereas some sources from the same period merely mention the shorter G.M.T. & Co. only. I assume that the G.M.T. & Co. marks were introduced around 1960 before the company during the 1970s decided to switch to a simple 'THURNAUER' marking. Sadly, that is all I can say until now; the Thurnauer business apparently was later sold to - or taken over by - the Meyer Corporation."
Purchased steins from amongst others:
Diesinger
#9, #14, #36, #74, #75, #1354/#3118, #3114, #3115,
#3116, #3117, #3121,

Diesinger #3121. The main tableau shows "Young Werner with the Baron" from the Trumpeter of Säckingen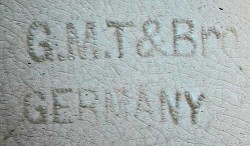 Impressed mark on base of featured Diesinger #3121 stein, distributed by G.M.T & Bro.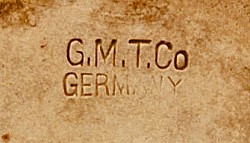 Impressed mark, G.M.T.Co.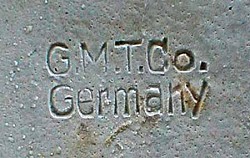 Impressed mark, G.M.T.Co.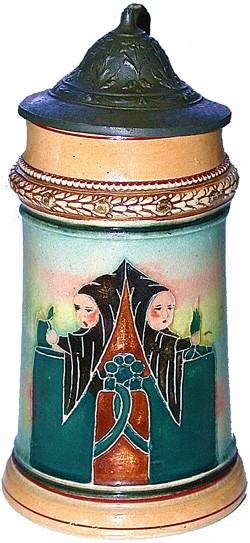 1/8th litre, Diesinger #3114. Münchner Kindl, threaded relief.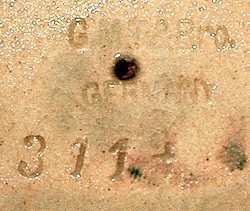 Basemark on the feature stein above.