Jakob Sigrist G.m.b.H

Griesgasse 12 & 13, Franz Josef Quai, Salzburg, Austria.
Zinngießerei Glas- und Porzellanwaren Geschenkartikel und Andenken Grosshandel / Pewterer, Glass & porcelain, gift and souvenir wholesaler.
Kaspar Sigrist opened a Zinngießerei in Salzburg around 1840. He was born in 1813 in Burghausen, Bavaria, about 50 km away from Salzburg. He died on December 24th, 1877 in Salzburg. His father Martin had also had a Zinngießerei in Burghausen. Kaspar`s wife Theresia (they married April 18th, 1842 in Salzburg) continued the business until her death on November 27th, 1882. Their son Jacob (b.24th July 1851 - d. 23rd Nov. 1926), in Salzburg. He took over the business in December 1882. The glass and porcelain wholesale business of Jakob Sigrist in the Ferdinand-Hanusch-Platz area of Griesgasse, was well known in Salzburg. The company, which is still in operation, running a Tchibo franchise, which has given its name to the popular little café situated just above the offices, the Café Sigrist, which fronts onto the Salzach river
Purchased stein bodies from : Merkelbach & Wick Sächsische Glasfabrik
Reference: Jakob Sigrist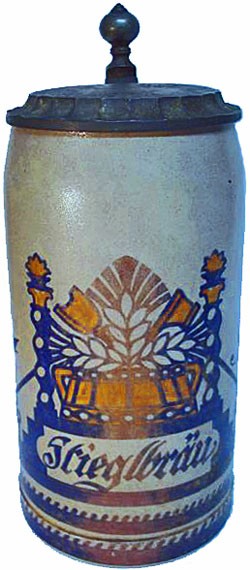 "StieglBräu" brewery stein by Merkelbach & Wick. StieglBräu still has a brewery in Salzburg, together with a restaurant & hotel.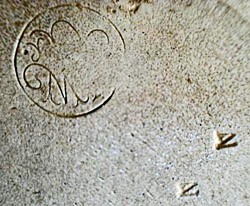 Merkelbach & Wick mark on featured stein, shown above.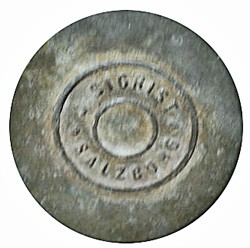 Cast vendor's mark on underside of lid of featured stein, shown above.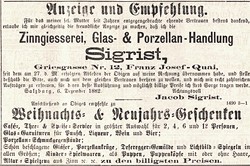 Jacob Sigrist on the 6th December 1882, made this announcement in this newspaper advertisement, announcing that he had taken over the company following the death of his mother, Theresia. To show he was running the company he announced a promotion of Christmas and New Year gifts. These would include Coffee and Tea services. Glass sets for Punch, Spirits, Wine and Beer. Porcelain breakfast services, decoration designs by Defregger and by photograph, Mirrors; together with Dolls and Doll Heads, incl. hair, plus Altar Figurines in pewter. ALL AT THE CHEAPEST PRICES.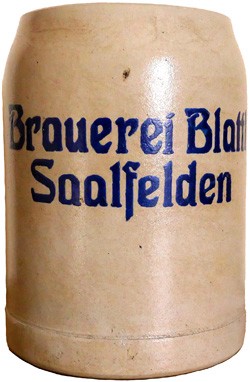 Brauerei Blattl Saalfelden circa 1925: Saalfelden (County of Salzburg) is near Zell am See and about 60km away from Salzburg City.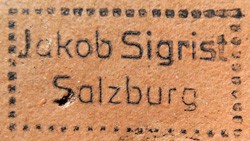 Brauerei Blattl Saalfelden, base mark as stein above.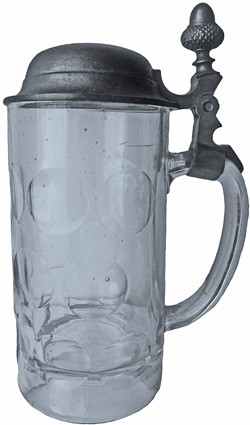 A Münchner Kugelseidel manufactured by Sächsische Glasfabrik, post 1928.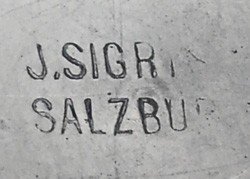 Touchmark on the underside of a pewter lid fitted to a dimpled glass Münchner Kugelseidel, featured above.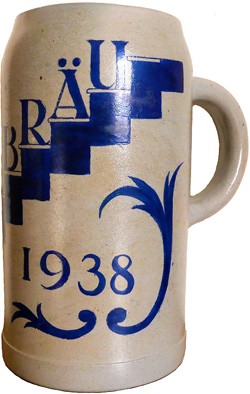 Stieglbrau Mass 1938: These steins were made in three different years, 1926, 1930 & 1938, by different producers.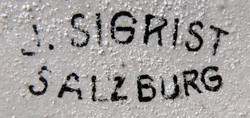 Stieglbrau Mass 1938 base, Inkstamp.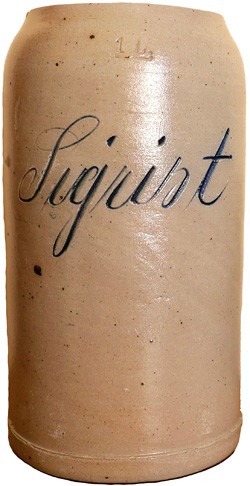 1.0L. stein or Mass, "Sigrist", advertising sample.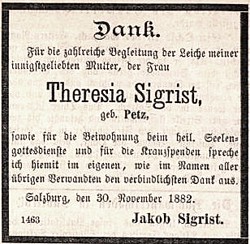 Post funeral obituary notice, dated 30th November 1882, for Theresia Sigrist, wife of Kaspar Sigrist.