Richard Klemm
Tittmannstraße 4, Dresden - Striesen, Saxony.
Karl Richard Klemm founded a porcelain decorating studio in Striesen bei Dresden in 1869. At the time, there were more than forty studios in and around Dresden that specialized in the painting of porcelain in the Meissen style. The porcelain was obtained primarily from the Meissen factory itself, much of it being seconds. The decorating style of Richard Klemm closely matched that of the Meissen factories at that time. He often used a heavily applied style that focused on florals. In many instances, the porcelain pieces of Richard Klemm are emblazoned with a gold leaf at the base. This gold leaf was used to hide the marks made by the original manufacturer of the blanks that he used for decorating.
Richard Klemm, along with Helena Wolfsohn, Karl Thiem, Ambrosius Lamm and Donath & Co., were among the most sought after porcelain decorating studios at this time. In the early 1880's Richard Klemm registered his mark, the "Klemm Dresden Crown", as design No 24, at the Reichs-Warenzeichenregister, or RWZR, which was the central office for registering of all porcelain trade names and marks. He merged his company with the studio of Donath & Co. in 1916. However the merged companies were subsequently purchased in 1918 by Hutschenreuther.
Reference: Slub-Dresden Saxony Address books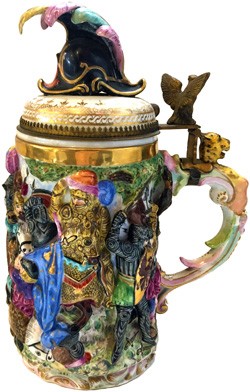 Stein with the same pattern as the one on the right, in different colours and using an Imperial Eagle as a thumb lift.Note, The lid is on at 180 degrees to the other lid.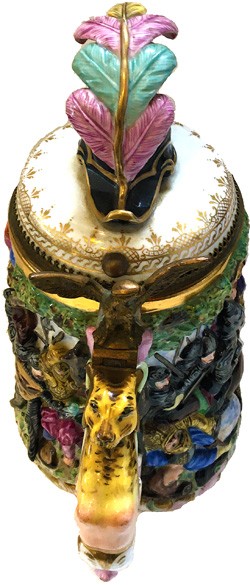 Stein, as above, with different colours and an Imperial Eagle as a thumb lift.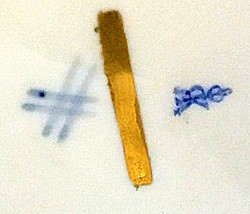 Basemarks, showing a Schierholz crosshatch, The Richard Klemm RK, together with a gold leaf flash covering the manufacturer's mark, on the stein above.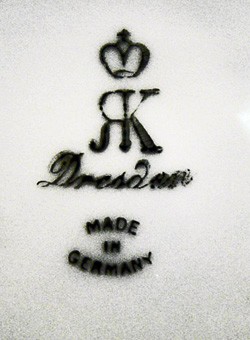 Richard Klemm, Dresden mark
Klemm's Dresden inkstamp on a Meissen plate.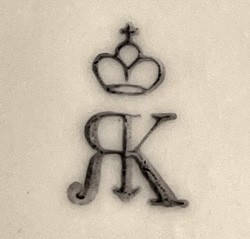 An "RK" mark on the bottom half of what appears to be a decorated butter dish. The authenticity is as yet unproven.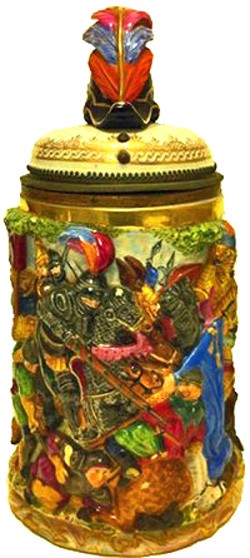 Highly decorative stein. using a crown as a thumb lift.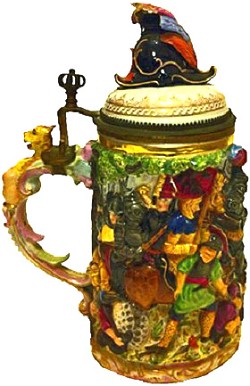 Highly decorative stein with a crown on the tang.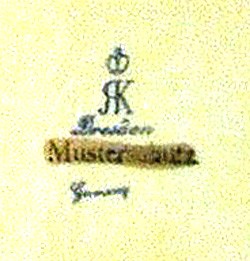 Basemark showing Dresden mark, together with a gold leaf flash attempting to cover the maker's (Schierholz?) identification on the above stein.