Carl Leopold Heyer

Wiedner Schleifmühlgasse 2 & 4, Paniglgasse 19, Vienna, Austro-Hungarian Empire (now Austria)
Zinngießerei / Pewterer
Appointed K.u.K. Hofzinngießer or Imperial & Royal House Pewterer
Carl Leopold was born 3rd November 1831 in Komotau, Bohemia / now Chomutov, Czech Republic. He trained as a pewterer and qualified in 1849, at which point he started work for Friedrich Beitz, an established pewterer in Wiedner Hauptstraße 11, Vienna. By 1865 Friedrich Beitz is no longer listed. However Carl Leopold is now trading as his successor, from Wiedner Schleifmühlgasse 2. By 1868 he had opened a second branch at Freisingergasse 5, which had closed by 1874, but he moved next door to his first shop at Schleifmühlgasse 4. In 1881 he is awarded the K.u.K. Hoflieferant, and by 1884 this necessitates an additional branch at Paniglgasse 19, just around the corner from his original address at Wiedner Hauptstraße 11. By 1888 he opened yet another branch in Plankengasse 5. He died on the 23 May 1893, and his son Karl took over until 1904, after which time the company ceased trading.
Lidded stein bodies: Reinhold Merkelbach Used J. Zeithammels as decorator
Reference: Address book 1, Address book 2 Vienna districts Digital.Wienbibliothek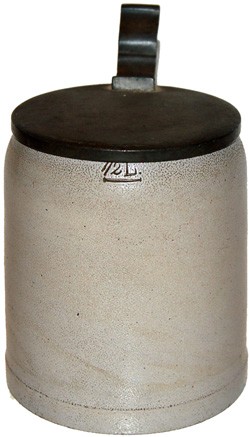 A plain unnumbered Reinhold Merkelbach stein with, unusually, a capacity mark positioned on the front.The lid marking below states that it belonged to a Brauhaus in Schwechat, a suburb of Vienna and home to Schwechater beer.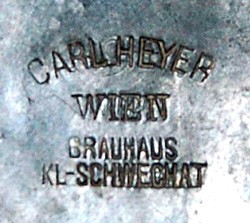 Carl Heyer / Wien / Bräuhaus KL-Schwechat, touch marks on the underside of the lid of the above stein.

Adolph Lehmann's allgemeiner Wohnungs-Anzeiger 1884 [Inserate] 8. Nachweis. Inserate, page XXXIClick to enlarge.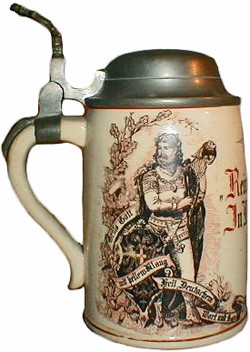 Stein decorated by J. Zeithammels circa 1895,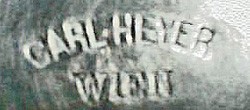 Pewterer's touchmark on the underside of lid of featured stein, above.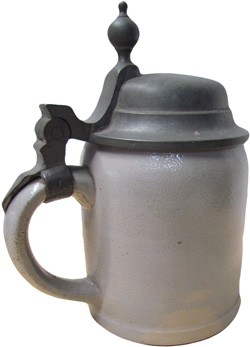 Reinhold Merkelbach, dated circa 1882. Supplied to Bräuhaus Liesing, Note position of the thumb pull.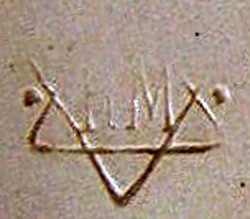 Reinhold Merkelbach "Brewer's Star" on the above stein.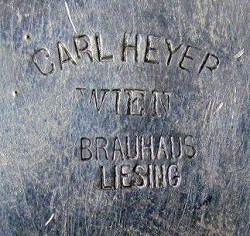 Carl Heyer / Wien / Bräuhaus Liesing, touch marks on the underside of the lid of the above stein.