P. Mauder
Entwerfer-Künstler / Designer Artist
Bruno Mauder

was a well known designer and modeller, however this stein is signed P. or I. Mauder, so is assumed to be by another person.
Unfortunately the author has yet to find any more information to date.
Purchased stein bodies from: ?
Reference: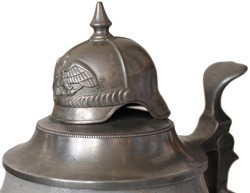 Pewter lid on the featured stein, giving more detail of the Pickelhaube.

Bored sentry on duty wearing Pickelhaube, therefore dated circa 1914.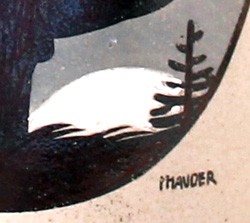 Artist's signature showing P. or I. Mauder