Orgiazzi & Frigiolini
Schiffestraße 14, Freiburg im Breisgau, Baden (now Baden Württemberg)
Zinngießerei und Solinger Stahlwaarenhandel / Pewterer and Solingen cutlery distributor
Founded in 1894 and run by Josef Orgiazzi (Merchant) and Frigiolini. Their last entry in the Freiburg address book was 1913,
The author can only surmise that Messrs. Orgiazzi and Frigiolini sold up and fled south at the start of WW I, since Italy entered the war on the opposing side.
In 1914, Schiffestraße 14 was occupied by a Eugen Riviani, Cutler and distributor of Solingen cutlery.
Purchased stein bodies from: Diesinger
Reference: Freiburger Adressbücher
Close up of bell on top of Diesinger stein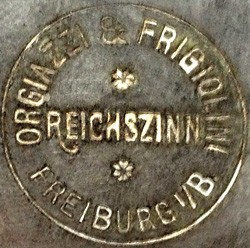 Pewterer's cast mark on the underside of the lid of the Diesinger stein.

Unnumbered Diesinger stein with a bell on top, presumably to summon disgruntled bar staff.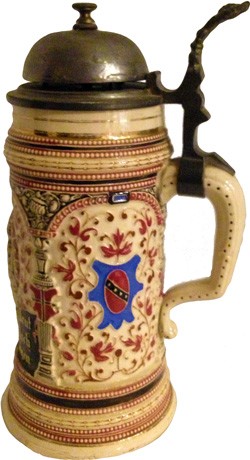 Side view of Diesinger stein showing typical Diesinger handle.