Kunstgewerbliches Atelier von Louis Huth, Pößneck in Thüringen
Krautgaße 8, Marienstraße 1, Pößneck, Sachsen-Meiningen (now in Thuringia).
They also had branches at Ziegelgaße 22 Hinterhaus, Werderstraße 40 Hinterhaus, Landfriedstraße 10, in Heidelberg, Baden (now Baden-Württemberg)
and Georgstraße 40, Hannover, Prussia (now Lower Saxony).
Porzellan-, Glas-, Ton-, Holz-, Leder- und Papiermalerei und Geschenkartikel für Studenten /
Glass, porcelain, earthenware, wood, leather and paper decorator, plus student's gifts & regalia.
Hoflieferant Herzogtum: Georg II, Sachsen-Meiningen / Suppliers to the court of the Duke of Sachsen-Meiningen: George II

Louis Huth (b.1842 - d.1923) established his business in his father's house, at Krautgaße 8, Pößneck, in 1876. However before that, Louis's grandfather, Carl Friedrich Huth (b.1791 - d.1835) had come from Gera-Untermhaus to Pößneck, around 1818, where he worked as a potter for the porcelain factory Conta & Böhme, which was in production between 1790 and 1940. Louis's father, Carl Friedrich Huth (b.1813 - d.1891) was apprenticed as a porcelain decorator at Conta & Böhme. In the mid 1830's he started his own workshop at Heiligengasse 21, decorating bowls of tobacco pipes which mostly were delivered to Gebrüder Ziegler of Ruhla. In 1845 he took over Conta & Böhme Niederlage, i.e. their factory outlet, which allowed him easier access to their blank pottery. Around this time, he also purchased Krautgasse 8 and moved his business there. Between 1873 and 1876 he transferred his business to his son Louis. Louis's skill added to his father's business. The decorated porcelain items, e.g. cups, wall plates, student items etc. were fired at the kilns of Conta & Böhme. In 1886 he purchased Marienstraße 1, which had both workshops and a shop at the front. In one of the rooms at the back of the house he installed a muffle kiln which made him independent from Conta & Böhme. Louis Huth was still the proprietor in 1894, but by 1906, his sons, Hermann & Franz Huth had become the proprietors.

Hermann Huth (b.1874 - d.1953) was a merchant and not a decorator, so when his brother Franz decided to become an artist and left Pößneck, he took over his father's business which included one or two decorators. The product range became mainly souvenir items from Pößneck, which included plates with the Pößneck coat of arms, cups showing the townhall, and beer steins with views of Pößneck. They had opened the Heidelberg branch, Manufaktur für Kunstgewerbe, Glas-, Porzellan- und Wappenmalerei / Manufacturer of applied arts, decoration of glass, porcelain and coats of arms, at Ziegelgaße 22 in 1903, but closed that shop in 1906 and worked from a flat at Werderstraße 40 until 1909. The business of Gebrüder Aug. & Ferd. Goedecke of Hannover was purchased sometime between January 1906 and July 1907 and traded as Louis Huth vormals Gebrüder Goedecke . Also in 1907 they were awarded the prestigeous title of Herzoglich Sachsen-Altenburgischer Hoflieferant. In 1910 they re-opened the Heidelberg branch at Landfriedstraße 10, but left these premises and the business during 1911. Also in 1911 they received the "Goldene Verdienst-Medaille für Kunst und Wissenschaft" from Herzog Georg II von Sachsen-Meiningen. The Heidelberg directory then states that during 1911, Wilhelm Eitel occupied Landfriedstraße 10. (It is not known whether they occupied the workshop, simultaneously or consecutively). The Hannover branch seems to have closed sometime before 1927. In 1940 the last decorator left the small business, so Hermann then sold mainly figurines from various Thuringian porcelain factories. Hermann Huth died in 1953 and the business called Louis Huth was then closed.

Meanwhile, Franz Huth (b.9th Nov.1876 - d.7th Jun.1970) became a celebrated pastel artist in the wider fine art market. He worked originally in his father's workshop, then completed an apprenticeship in Volksted-Rudolstadt as a porcelain decorator and elsewhere as a glass decorator, before in 1895, attending the art college in Dresden and finally in 1900 visiting the Königliche Porzellanmanufaktur (K.P.M) in Berlin. He then started his career as a freelance artist. Between 1911 and 1918, Franz Huth was not only working in Heidelberg, but also in Cuxhaven, Rome and Darmstadt. From 1912 to 1918, he still had a residence at Kuno-Fischer-Straße 5, and in 1914/15, also an artist's studio at Rohrbach Straße 40. In 1918/19, Franz Huth left Heidelberg and for many years he made a living as an artist all over Europe. On his 70th birthday in 1946, he was appointed a professor and honorary citizen of Pößneck. He died in 1970 in Weimar. Today, a school in Pößneck is named Prof. Franz Huth Regelschule.

Purchased stein bodies from: Villeroy & Boch - Mettlach, Königliche Porzellanmanufaktur (K.P.M).
References: Heidelberger Adressbücher Wikipedia Franz Huth Movie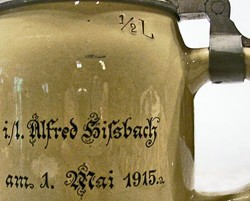 Dedication on featured stein, manufactured in 1912 was not decorated until 1st May 1915. It would suggest that this stein was made for export, but was redirected, due to the onset of W.W.I.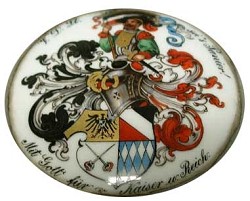 This stein lid shows the "Verein Deutscher Studenten München", founded 21/5/1885. Their motto was "Mit Gott für Kaiser und Reich" or "With God for Emperor and Empire". Colours were Black-Red-White to honour the flag of the German Empire. The VDSt München was dissolved c.1938, but on 9/3/1951 was re-constituted by twenty post-graduates of the pre-war era. It now has a slightly different Wappen and the new motto of "Mit Gott für Volk und Vaterland" or "With God for the people and the Fatherland". From the winter semester of 1953 until 2005 the name was "Verein Deutscher Studenten München-Prag". References: VVDSt VDSt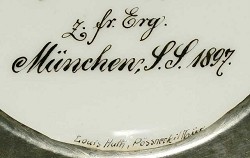 Artist's signature on student stein lid, Verein Deutscher Studenten München, dated 1897.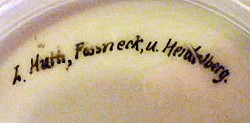 Artist's signature on student stein lid, dated 1903. N.B. Branches in both Pößneck & Heidelberg.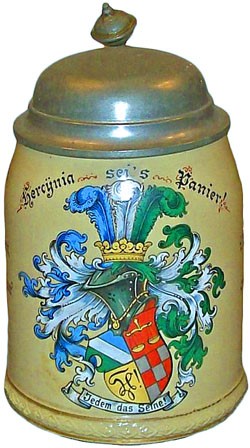 Student stein: "Hercÿnia sei's Panier". 1/2 Litre Villeroy & Boch - Mettlach #1526, dated 1912.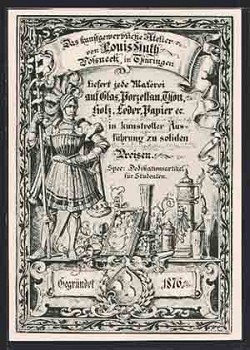 Advertisement dated 1876. Click to enlarge.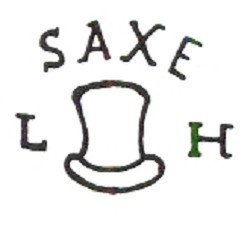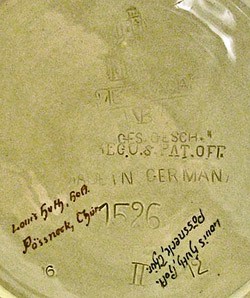 Base of featured stein showing Villeroy & Boch - Mettlach #1526, dated 1912, showing U.S. Patent office for export to U.S., together with signatures for Louis Huth of Pößneck, advertising Hoflieferant status. It would suggest that this stein was made for export, but was redirected, due to the onset of W.W.I.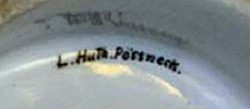 Signature on Student stein. Circa 1890.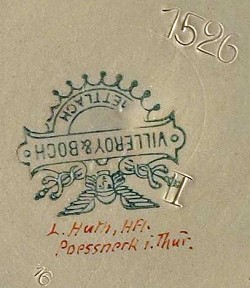 Artist's signature on Villeroy & Boch - Mettlach #1526, dated 1916.