Eduard Rau (Inhaber Karl Rau)
Kaufingergaße / Kaufingerstraße 9, - Schüsselbazar / Passage Schüssel, Munich. Bavaria.
Schüssel's Küchen- & Wirthschaft-Einrichtungs-Magazin / Schüssel's Kitchen / Restaurant and Furniture store.
Eduard Rau (b.16 March 1842) was married to Amélie Schüssel, the daughter of Karl Schüssel . By 1874 Karl Schüssel had had built a number of shops in what became Passage Schüssel. Eduard Rau was appointed the agent for Theresienthaller Cristallglasfabrik on the 1 September 1879 and created an outlet or Niederlage from which all Theresiental glassware was on permanent exhibition and was distributed. He had the pewterer Brüder Thannhauser as a next door neighbour, from whom he purchased Merkelbach & Wick and Marzi & Remy stein bodies with the pewter already installed. He won his title of Hoflieferant to the Bavarian court on the 1st March 1893. Eventually the company passed to his son Karl Rau, but maintained the name of Eduard Rau.  
Reference:   Eduard Rau Theresienthaler Cristallglasfabrik-Niederlage     Uni-Muenchen    Adressbuch München 1874

Theresienthaler Cristallglasfabrik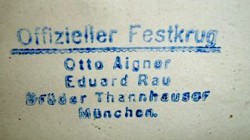 Official 1906 Munich Beer Festival Stein.  Joint supplier with  Otto Aigner (Reichenbachstraße 37, 38) &  Brüder Thannhauser. (Kaufingerstraße 16 & 7)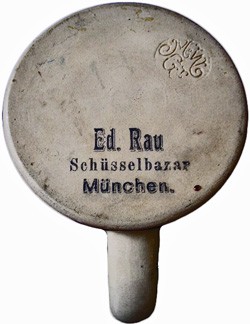 Ed. Rau inkstamp in conjuction with  impressed Merkelbach & Wick.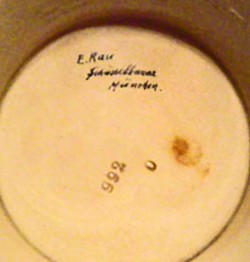 Signature E. Rau, Schüsselbazar, München  on a Marzi & Remy #992.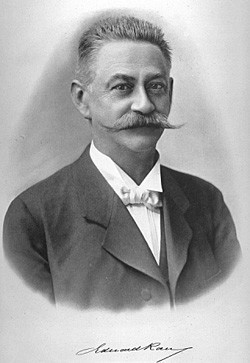 Eduard Rau (courtesy of Stephan Buse)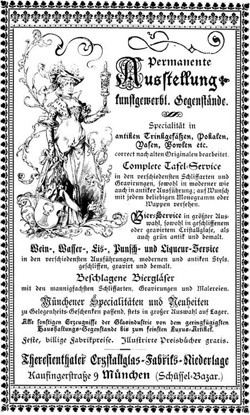 Advertisement from the catalogue of Munich's 3rd International Art Exposition, dated June 1888.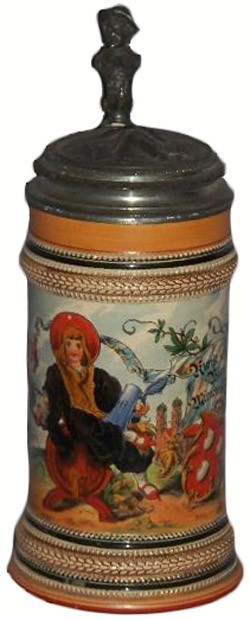 Marzi & Remy #992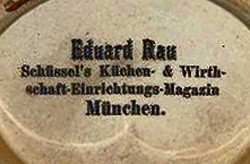 Ink stamp on base of featured Marzi & Remy #992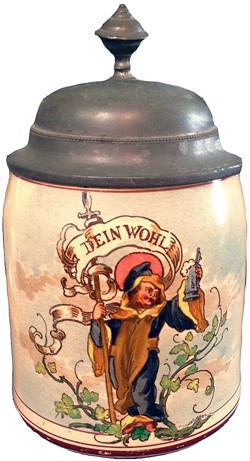 1/2 litre Merkelbach & Wick.  "Dein Wohl" Your Health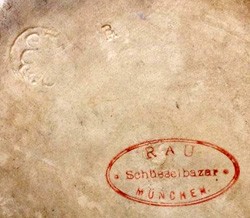 Impressed Merkelbach & Wick mark with Rau, Schüsselbazar on above "Dein Wohl" Your Health