Theresienthaler Cristallglasfabrik
Niederlage
Kaufingerstraße 9,
Munich, Bavaria
Glaswarenhandel. / Glass Wholesaler.
Known dates: 1836 to the current day
Eduard Rau,
who was the distribution agent for Theresienthaler Cristallglasfabr. of Zwiesel, Bavaria obviously purchased all his glassware from that manufacturer.
Limited amounts of
stoneware were purchased from the
Brüder Thannhauser
.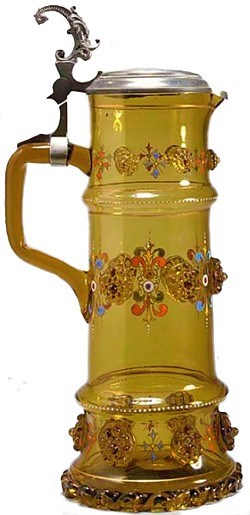 This Pourer could be ordered separately or as part of a large set.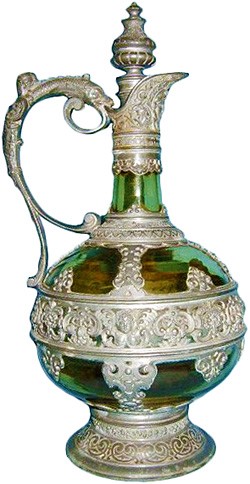 One of a large range of wine servers; coloured glass with elaborate pewter work by Die Zinnwaarenfabrik Josef Lichtinger & Cie.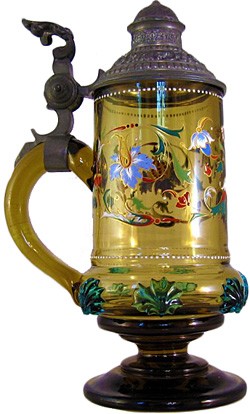 0.5 litre, with pedestal and unusual sea shell prunts.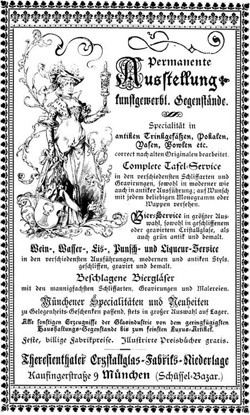 Advertisement from the catalogue of Munich's 3rd International Art Exposition, dated June 1888. Please note that this is also the address of both Karl Schüssel's Porzellan-Magazin and Eduard Rau Eduard Rau was Theresienthaler Cristallglasfabrik's Munich agent. and used premises in the Bazar as their trading address. (Click to enlarge).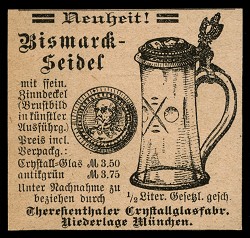 From a newspaper advertisement dated 1887. Translation: Newly available! Bismarck~Beer Stein. 1/2 liter, legally protected with fine pewter lid (Bust in artistic presentation) Price includes packing: Glass Crystal 3.50 Marks. Antique Green 3.75 Marks. With cash on delivery available from: Theresienthaler Crystal Glass Factory Warehouse Munich.

Elaborately decorated glass Pokal.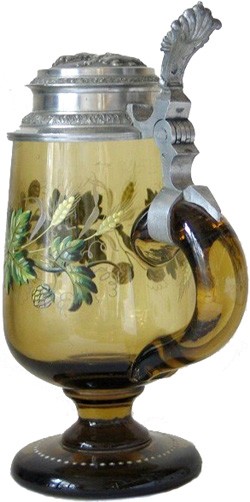 0.5 litre, with enamelled picture of hops and a "C" handle mounted low down.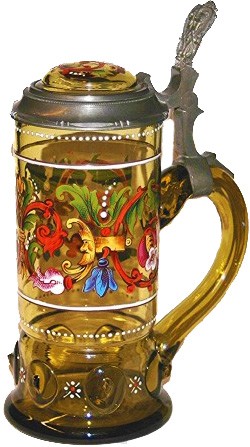 0.5 litre stein. Enamelled design with matching design on lid insert.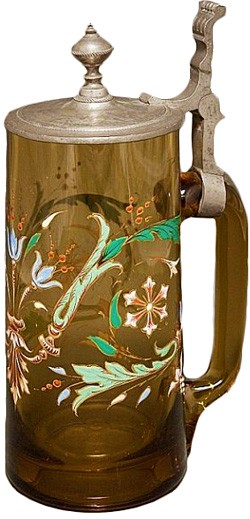 0.5 litre stein with pewter by Brüder / Gebrüder (Josef & Albert) Thannhauser. München. who was situated next door at Kaufingerstraße 7.