Karl Schüssel's Porzellan-Magazin
Kaufingergaße / Kaufingerstraße 9, - Schüsselbazar / Passage Schüssel, Munich. Bavaria.
Porzellan-Magazin. / Porcelain Store
Known dates: c.1874 - 1920's
The company was founded by Elias Michael Schüssel. Eduard Rau his son-in law (married to Amélie Schüssel) ran the Theresienthaler Cristallglasfabrik Niederlage from one of the stores in the Schüsselbazar, which had been built by 1874. The son of Elias Michael, Karl Snr. also ran one of the stores in Passage Schüssel. Elias Michael Schüssel purchased the Nymphenburger Niederlage, and later connected Kaufingersgaße (now Kaufingerstraße) to Fürstenfeldergaße, (now Fürstenfelder Straße), in the area of the old city gate known as the Kaufingertor. The resulting alley was called Passage Schüssel, in which were two glass roofed yards. These were destroyed in 1944. The name Kaufingertor was resurrected in May 1994, as a glass roofed shopping mall a short distance away. He had the pewterer Brüder Thannhauser as a next door neighbour from whom he purchased Reinhold Merkelbach, Marzi & Remy & Villeroy & Boch - Mettlach - Bavaria stein bodies with the pewter already installed.
Reference: Uni-Heidelberg Uni-Muenchen Adressbuch München 1874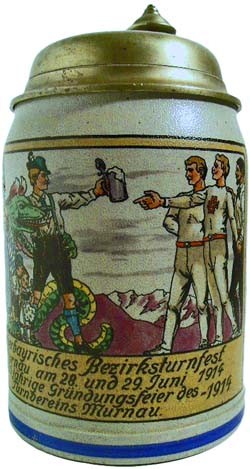 "XIV. Oberbayrisches Bezirksturnfest in Murnau am 28. und 29. Juni 1914. 1864- 50 jährige Gründungsfeier des -1914. Turnvereins Murnau".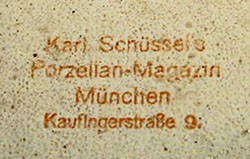 Ink stamp on base of featured stein, above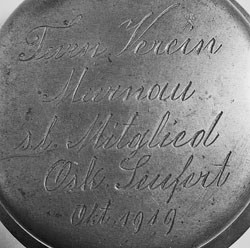 1919 dedication on lid of featured stein, dated 1914. "Turn Verein Murnau sl. Mitglied Osk. Seufert Okt. 1919".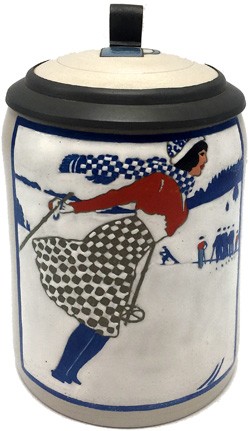 1/2L.Villeroy & Boch - Mettlach #3282, dated 1910, female skier. Design by Ludwig Hohlwein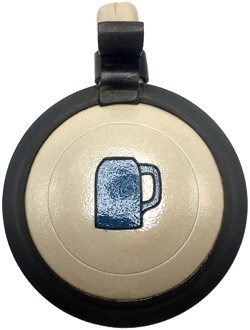 Pewter lid with ceramic insert on above V&B-M #3282 stein.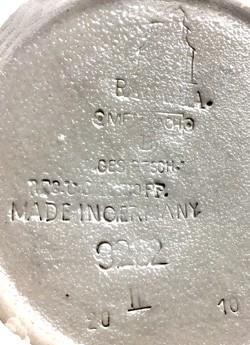 "Bavaria, Geseztlich Geschützt, Reg. U.S. Pat. Off, Made in Germany, #3282, 10", on above V&B-M stein.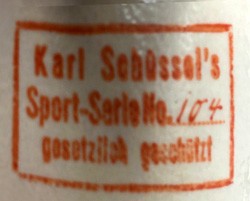 "Karl Schussel's Sport Series No.104, on above V&B-M #3282 stein.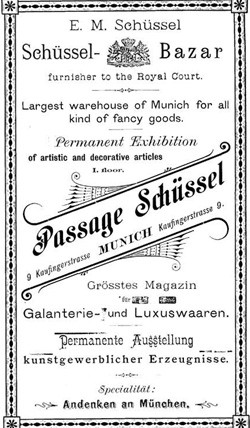 Illustrirter Katalog der Münchener Jahresausstellung von Kunstwerken Aller Nationen im Kgl. Glaspalaste 1894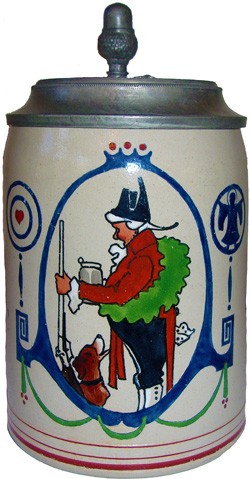 Transfer printed Munich stein, designer unknown.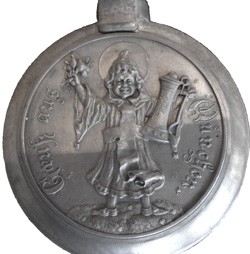 Lid top on the stein above, featuring the "Münchner Kindl" and Gruss aus München.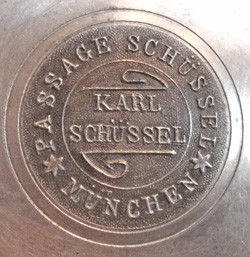 Cast pewterer's mark on the underside of the lid above.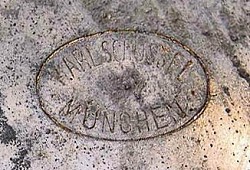 Touchmark on the underside of a lid, on a KGL Hof-Bräuhaus München HB stein.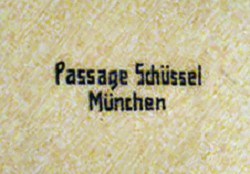 Ink stamp on a Gruss aus München stein base.
Großherzoglichen Gymnasiums zu Vecta 1714-1914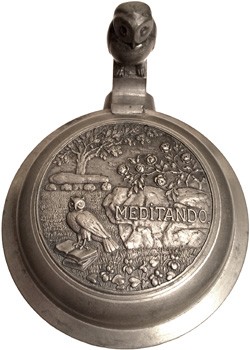 Pewter lid on the stein immediately above.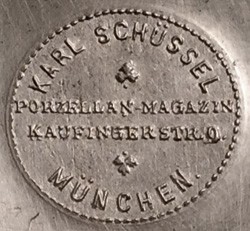 Cast pewterer's mark on the above stein lid.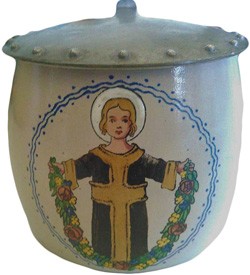 Marzi & Remy #6133, dated 1910.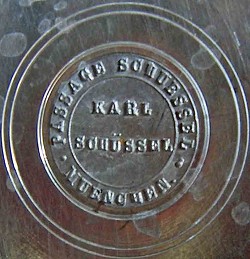 Identical cast mark on underside of a lid to Marzi & Remy #6133, above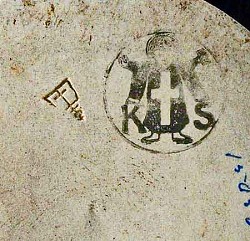 K.S. / Münchner Kindl mark together with impressed Marzi & Remy mark.