F.W. Auerbach (Inhaber Gebrüder Kramer)
Breiteweg (now Breiter Weg) 173 / 175, Bahnhofstraße 29, Nelkenweg 8, Magdeburg, Saxony, Free State of Prussia. (Now Saxony-Anhalt).
Grosshandlung in Porzellan-, Steingut-, Hohl-, Tafelglas. Porzellan Malerei, Beleuchtungsartikeln und Luxuswarenhandlung /
Wholesalers of porcelain, earthenware, blown and table glassware. Porcelain decorators, lighting & luxury item retail sales.
Known dates: 1867 - 1948 (Foundation and closing dates unknown).
The company of F. W. Auerbach employed Theodor Wieseler as a sales representative, during 1880 - 1882, covering Bavaria, Baden & Württemberg. By 1894, the company was owned by the Gebrüder Kramer. F.W. Auerbach traded from the prestigious address of Breiteweg 175, in Magdeburg old town. However, by 1922 the business had moved to smaller premises at 173 Breiteweg. By 1935 the street was renamed Breiter Weg and Auerbach also now had a warehouse, a couple of streets away at Bahnhofstraße 29. The proprietor by then, was probably Wilhelm Krey, who was resident at Zietenstraße 7, (now known as Planckstraße). By 1948, the business address was entered as being at Nelkenweg 8.
On 16th January 1945, 90% of the old town was destroyed by bombing, but since 1990 has been totally rebuilt in the modern style.

Purchased steins from: Merkelbach & Wick
Reference: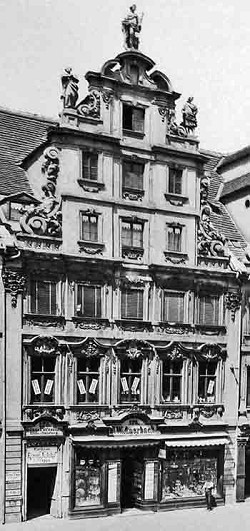 F.W. Auerbach. Breiteweg 175, Magdeburg.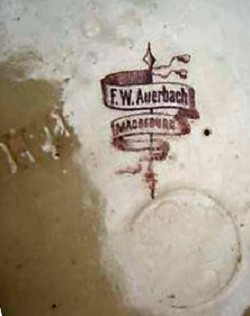 Stein manufactured by Merkelbach & Wick.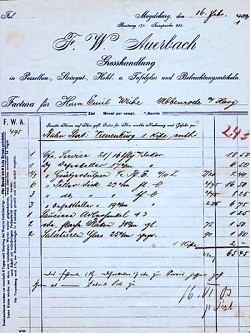 Invoice dated the 16th February 1891. Click to enlarge.