Gebrüder Heubach
Sonnebergerstraße 75, Lichte. Thuringia.
Hersteller / Manufacturer
Georg Christoph and Philipp Jakob Heubach purchased the Wilhelm Liebmann porcelain factory (founded 1822 in Lichte) in 1840, and formed the new company, Gebrüder Heubach. In 1846, Christoph's son Anton took over Christoph's shares. In turn, in 1868, Philipp's son, Louis took over Philipp's shares. Anton left the company, leaving Louis with sole ownership. Louis then appointed his three eldest sons Philipp, Hermann and Ottokar. Philipp and Ottokar Heubach took over the factory from their father in 1887. Both Philipp and Ottokar died in 1919 and Eduard Heubach, Hermann's son, who had been with the company since 1908, joined the board of directors. From 1876 they started to produce decorative household porcelain, figurines, and novelties. In 1910 they started to make bisque doll heads and some beer steins. In 1919, the firm of Ernst Bohne Söhne was purchased to expand production. Success here was short-lived, operating only until 1930 and contributed to the bankruptcy of the company in 1937. The factory was rescued by Otto Friedrich III (b.1904-d.1990), Prince of Ysenburg and Büdingen but it was nationalised by the East German Government in 1948. It reverted back between 1991 & 1993, to the estate of Ysenburg and Büdingen. In 1994 the company became Lichte Porzellan, run by former employees.
The following designers either designed the pottery for Gebrüder Heubach: Ludwig Hohlwein Adelbert Niemeyer.
Reference: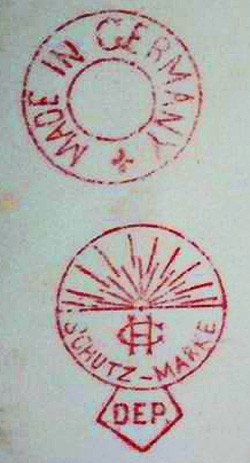 This mark, on a standing doll figurine base, dated between 1887 and 1915.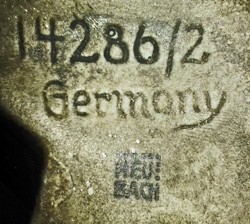 Basemark on figurine, used between 1910 - 1949.