Jakob Julius Scharvogel and the Scharvogel Kunsttöpferei, München.

Flachsmarktstraße 21, Mainz, Rhineland-Palatinate ● Mettlach, Saar ● Leipzig, Saxony ● Zielstattstraße 38, Obersendling,
Munich, Bavaria ● Darmstadt, Hesse ● Munich, Bavaria.
Kunst-Töpferei / Art Pottery

Jacob Julius Scharvogel was born on the 3rd April 1854, at Flachsmarktstraße 21, Mainz, Rhineland-Palatinate. (He changed the spelling to Jakob, aged 26.) His father, Christian Scharvogel,(b.1828 - d.1908) was proprietor and headmaster of an elementary school applying humanistic educational principles which Jacob attended until 1868, when he was sent to Zürich's Industrieschule, Switzerland. However, in 1869, after only two semesters, he returned to Germany to pass the entrance exam of the newly founded "Grossherzoglich-Hessische Polytechnische Schule", Darmstadt, where he studied advanced mathematics, chemistry and physics for 2 years. On leaving Darmstadt he returned to Mainz to gain commercial experience. After his one year's compulsory military service, Scharvogel spent some time in Paris, when in 1878 he visited the Paris World's Fair where Japanese potters introduced their ceramics, which were fired at very high temperatures (Scharffeuer Inglasur). Over the previous 300 years they had perfected their secret recipes of brown and grey glazes, which were ideally absorbed into stoneware. Other admirers of the Japanese ceramics were the French potters Jean-Joseph Carriès (b.1855 - d.1894) and Auguste Delaherche (b.1857 - d.1940). Carriès encouraged the French chemist L. Auclair to develop recipes for grès flammé, an interstage between the Japanese firing technique and the "Scharffeuerkeramik" of Scharvogel. One key event for Scharvogel was his stay in London until the end of 1879: "Here my artistic career was first stimulated, because of my relationship with the curators of the South Kensington Museum" (now known as the Victoria & Albert Museum) "which allowed me the chance to study its famous collections." On his return to Germany, Scharvogel continued his artistic and historic studies and for the first time he tried to produce some ceramic items. During the early 1880's Scharvogel studied glass blowing at Poschinger's glass works. In 1883 Scharvogel's sister, Margaretha Juliane, married Ferdinand von Poschinger (1842 - 1917), under whose direction the glassworks in Spiegelhütte and Buchenau, near Zwiesel in the Bayrischer Wald underwent a period of considerable expansion.
Scharvogel joined Villeroy & Boch in the Mettlach mozaic factory (as opposed to the stoneware factory) in the latter half of 1883, as the Work's Engineer and Deputy Director as well as Drawing Office Manager. On the 31st August 1885 he married the heiress Sophie Vohsen (b.1859 - d.1942), also from Mainz, and subsequently went on to have two daughters: Gertrud (b.1888 - d.1951) and Clothilde Juliane (b.1890 - d.1969). Later in 1885, he became head of V&B's distribution centre, based in Leipzig, Saxony, where his main task was the promotion and execution of projects using architectural ceramics. In 1887 he won a gold medal at the "Internationale Ausstellung für Volksernährung und Kochkunst" and in 1897 a silver medal at the "Sächsisch-Thüringische Industrie- und Gewerbeausstellung", both exhibitions being in Leipzig.
This was excellent training for his next step, which was to open his own "Kunsttöpferei" (art pottery) in Munich on the 7th December 1898. Collaborating with some of the most prestigious designers of the day, including Theodor Schmuz-Baudiss, Walter Magnussen and Ludwig Habich, he specialised in producing high value items influenced by Japanese and Chinese designs and glazes. In 1904 he co-founded the company, Grossherzogliche Keramische Manufaktur G.m.b.H. in Darmstadt. So by September 1905, he had sold his art pottery to the Münchner Kunst- u. Verlagsanstalt Dr. E. Albert u. Cie. K.G. for the price of 55,000 Marks, which left him free to concentrate on the building of the new factory in Darmstadt.
Production started here in the spring of 1906 and had considerable artistic success, focussing on architectural and garden products, with inspiration coming from the designers of the "Darmstädter Künstlerkolonie" (Darmstadt's Artist Colony). Commercially, however, it was a failure. On 28th July 1913, Scharvogel was informed by registered letter, from the majority shareholder, the government of Ernst Ludwig, Grand Duke of Hesse, that his contract would be terminated on the 1st December 1913. Scharvogel did not respond for some weeks. On the 28th August 1913, the local press announced that due to reorganization, the company would be reducing its inventory at sale prices. Scharvogel then asked that he be allowed to resign due to medical reasons at the end of September. This was immediately accepted on the 22nd September 1913. There was a failed attempt to re-lease the factory prior to WWI. In 1919, under the new name of "Keramische Manufaktur Hessen - Darmstadt" the factory had a new leaseholder, Johannes Bartelt. Production was restarted under the management of the sculptor Well Habicht, the son-in-law of the important Darmstadt publisher Alexander Koch. The mark was a crown over the letters "HD" (for Hessen - Darmstadt). They failed however, to match the factory's former artistic importance. So in 1921, factory was occupied by Älteste Volkstedter Porzellanfabrik AG, Rudolstadt-Volkstedt and then again in 1923, by "Steingutfabrik Max Roesler, Rodach" who manufactured tableware until the factory was finally closed, due to the economy in 1931.
Meanwhile during 1907, Scharvogel had made an educational trip to Italy, together with fellow members of the Darmstadt colony, the architect Wilhelm Jost (b.1874 - d.1944) and the sculptor Heinrich Jobst (b.1874.- d.1943) Afterwards, on the 5/6th October 1907 Scharvogel had become a founder member of the "Deutsche Werkbund" (German Work Federation). He went on to lecture in ceramics at Munich University, until he retired in 1925. He died on the 30th January 1938 from a heart attack and was buried in the "Münchner Waldfriedhof". The grave no longer exists, as it was removed in 1983
Pewterer used: Josef Reinemann. München
References: Grossherzogliche Keramische Manufaktur Porcelain Marks & More Helena Horn pg.89ff Walt Vogdes Porcelain Marks & More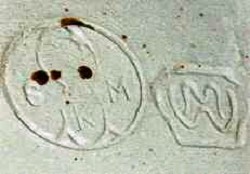 Complete with the initials of Walter Magnussen. Made between 1899 - 1903.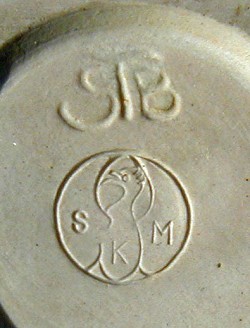 Complete with initials of Theodor Schmuz- Baudiss. Made during winter 1898/99.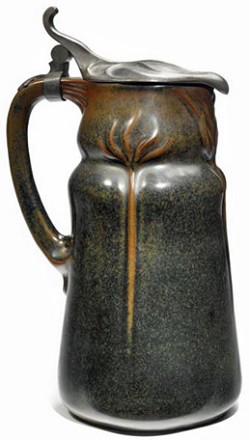 Produced by Walter Magnussen whilst working for the Scharvogel Kunsttöpferei München.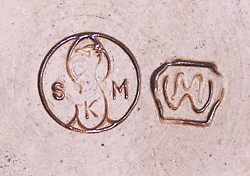 Base of featured stein, showing the crane with outstretched wings of Scharvogel Kunsttöpferei, München together with the initials of Walter Magnussen. Made between 1899 - 1903.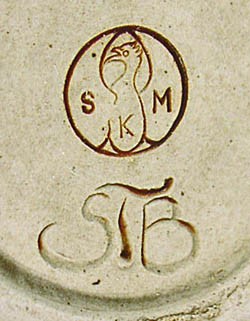 Complete with initials of Theodor Schmuz- Baudiss. Made during winter 1898/99.