Albert Kolb

Herrrngasse 19, Coburg. Saxe-Coburg and Gotha, Thuringia, (joined Bavaria 1920)
Künstler Malerei / Artist Painter
Albert Kolb was born in 1882, the first-born of the weaver Edmund Kolb and his wife Emilie née Dürer. He served his apprenticeship at the company of Gabrielle Ritter. The years 1902 to 1905 saw him working in Munich. In 1911 he was employed in the pewter foundry of W. Schramm in Tübingen, where he married Martha Dietz, the daughter of a baker. In 1913 he returned to Coburg and returned to the company Gabrielle Ritter, where he assumed the leadership in the same year. He won a gold medal from Carl Edward, the last Duke of Saxe-Coburg and Gotha, for his professional achievements. Between 1914 and 1920 Albert was in the army and subsequently in captivity. His wife during this time was keeping the business running. Albert Kolb died in 1948, whilst his widow died in 1969.
Purchased stein bodies from: Wick-Werke
Reference: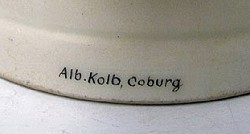 Student stein, dated 1921.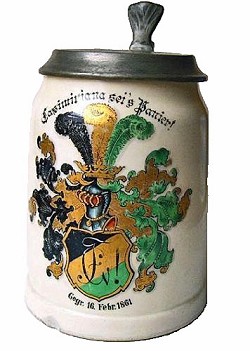 Student stein, dated 1921.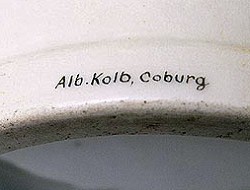 Signature on student stein, dated 1921.