Johann Josef Ferdinand (Ferdi Keramik)
Friedrichstrasse 35, (now Sankt-Georg-Weg 6). Höhr, Hesse-Nassau, Prussia. (now Höhr-Grenzhausen, Rhineland Palatinate)
Steinzeug- und Terrakottenfabrik und Grosseinzelhandel / Stoneware and Terracottaware manufacturer & wholesaler

Johann Josef Ferdinand, whilst living in Hillscheid, originally worked as a potter for Dümler & Breiden. Between 1894 and 1899 the family moved to Höhr and by the early 1900's had built a new house at Friedrichstrasse 35, (now Sankt-Georg-Weg 6). His company was founded in either 1908 or 1912. He did not own a kiln, but used the kilns of other companies, such as Leopold Gerz around the corner at Schützenstrasse 12. His second son Alois joined the company in 1913, whilst his eldest son Jakob Johann started as an apprentice merchant at Eckhardt & Engler, then worked in Coblenz, finally joining the family firm in 1919. In 1921 Jakob Johann married Maria Regina Thewalt, one of the daughters of Albert Jacob Thewalt. In 1921 the company was changed into an Offene Handelsgesellschaft with Jakob Johann as co-proprietor. After the death of Johann Josef in 1924, his two sons took over the running of the company with Johann Josef's widow, Jakob Johann and Alois all being co-proprietors. Around 1934 they ceased production of Steinzeug and became a wholesaler, using the trademark Ferdi Keramik, purchasing from Marzi & Remy and others. Some products were designed in house and manufactured outside, whilst other items were existing design product bought in, complete with that manufacturer's mark. Their product range was supplemented with glass and metalware, together with gift items. In 1960 the company took over the company of Commes of Coblenz, which was then managed by Alois's son, Walter. After the death of Jakob Johann in 1969, his brother Alois left the company in 1970 and the company was divided. Jakob Johann's son, Hans took over the company in Höhr-Grenzhausen, but in 1977, had to declare insolvency and the company was wound up in the same year. Walter became the sole proprietor of Commes.

Reference: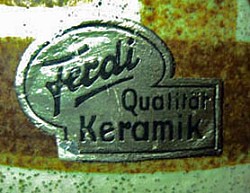 Gold paper label on 1960's vase.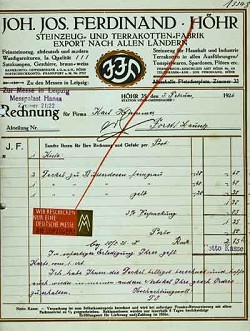 Invoice dated 5th February 1926. N.B. J.J.F. Logo. Click to enlarge.