Ferdinand Bagge

Ketschengasse 3, Coburg. Saxe-Coburg and Gotha, Thuringia, (joined Bavaria 1920)
Zinngießermeister / Master pewterer.
Ferdinand Bagge was thought to have been in business by 1863. In 1881 Bagge developed the attic of Ketschengasse 3 into a Zinngiesserei.
After Ferdinand's death, his widow continued the glass and porcelain business, first by herself, and then with the help of other companies.
In 1900 the business was purchased by Richard Scheibe. By 1906 the business had expanded into the ground floor shop.
Purchased stein bodies from: Possibly Messrs. E. Kick or Dorfner & Co
Reference: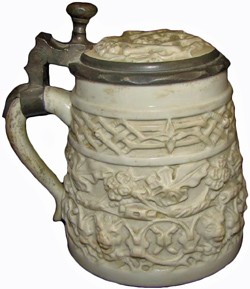 Porcelain stein, circa 1880's, possibly by E.Kick or Dorfner & Co.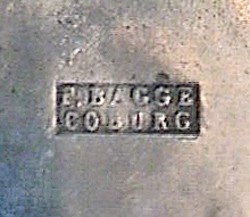 Pewterer's mark on underside of lid on ceramic stein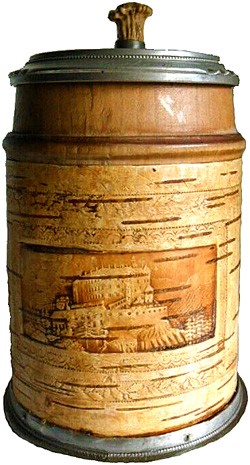 The beer stein was turned out of a solid piece of wood and covered with birch bark. The image was then applied using bookbinder's embossing tools. The castle, Schloß Ambras bei Innsbruck, is shown in the frame. A border of oak leaves was then also applied above and below.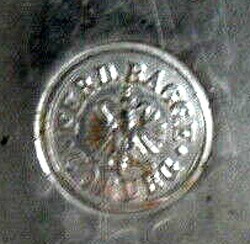 Pewterer's mark on the pewter underside of lid on wooden stein. "Ferd. Bagge, Coburg". ×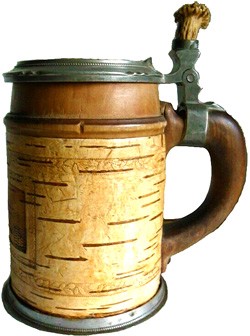 Side view of wooden stein, which was probably folk art made in Austria and pewter applied in Coburg.Handle is attached by wood screws.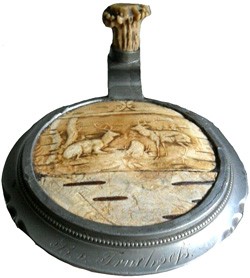 Pewter lid with insert constructed in a similar manner to the stein body. The thumb pull is stags horn. ×