Kunstgewerbe-Magazin Georg Leykauf.

Rothschmidsmühle, Bindergasse 18, König(s)straße 16, Karolinenstraße 1/ König(s)straße 22,, Nuremberg, Bavaria
Kunstgewerbe-Magazin / Art trade shop.
Kaiserlich und Königlich Österreichisch-Ungarischer Hoflieferant / Supplier to the Imperial and Royal Austro-Hungarian Court.
Königlich Bayerischer Hoflieferant / Supplier to the Royal Bavarian court
Königlich Rumänischer Hoflieferant / Supplier to the Royal Romanian court
Grossherzoglich Hessischer Hoflieferant / Supplier to the court of the Grand Duchy of Hesse
Grossherzoglich Badischer Hoflieferant / Supplier to the Grand Duchy of Baden
Herzoglich Anhaltischer Hoflieferant / Supplier to the court of the Duchy of Anhalt
Herzoglich Sächsischer Hoflieferant / Supplier to the Duchy of Saxony


Georg Leykauf was born on the 24th February 1847 in Nuremberg. His father died when he was 6 years old, and his mother subsequently remarried when he was eight. He soon started work in his stepfather's business, a Messerschleif- und Polieranstalt (a cutlery grinding and polishing company). When Georg was 16 or 17 years old in 1864, his stepfather died and he took over the family business. He initially resided at Vordere Fischergasse 12, whilst renting a shop at the Rothschmidsmühle until 1872. Georg married Christine Kisskalt on the 29th August 1869. The 22nd May 1870 saw the birth of their son Hans, who later became an employee and was to become a co-proprietor of Gg. Leykauf. Georg then acquired a house and shop at Bindergasse 18 in 1872. Moving the business in 1885 he bought a house and shop at König(s)straße 16. Certainly up until the turn of the century, Gg. Leykauf was primarily a cutlery and hardware company, even selling the first stationary diesel engines, perfected by Gasmotoren-Fabrik Deutz and Mannesmann-Werke of Augsburg.

During 1897 and 1898 two old houses, called the "Klein'sche Häuser", were demolished and replaced with a purpose built shop, the architect of which was Professor Franz Brochier, Direktor der Nürnberger Kunstgewerbeschule. This was situated at Karolinenstraße 1, the full address being known as "Ecke König- und Karolinenstraße gegenüber der Lorenzkirche" (The corner of Karolinenstraße and Königstraße, opposite the Lorenzkirche) which became known locally as "Leykauf Corner". Also in 1898, Hans Leykauf took a more active role, now as co-proprietor. Georg's success was rewarded when he acquired the title of Königlich Bayerischer Kommerzienrat (Councillor of Commerce to the Royal Bavarian Court) in 1906. Up until 1918 he had acquired no less than eight appointments as Hoflieferant to various Imperial and Royal, together with Grand-Ducal and Ducal, courts. He was also a main distributor for J.P Kayser und Sohn A.G. Georg Leykauf died on 29th May 1933 in Nuremberg. "Leykauf Corner" was totally destroyed during WWII. Plans were drawn up in 1951 and 1952 to rebuild, and is assumed that rebuilding took place. It is not currently known when the business of Gg. Leykauf closed.

Just to confuse the issue, Leonhard Leykauf, (brother?), started his own company on the 13th July 1882. In 1932, his address was in the Kaiserstraße. In 1958 the business was relocated to Hauptmarkt 16, trading as Leonhard Leykauf e.K.. The business was managed from 1986 by Camilla Leykauf-Banach, for some years. Over the shop front was the sign "L. Leykauf Geschenkhaus", (Giftshop). Circa 2008, the company was sold by the then current owner to a former employee. Unfortunately this new business was declared insolvent in Autumn 2009. Prager Kunstsalon, then an established company of 14 years standing, moved into Hauptmarkt 16 in 2010, and is trading from there today.

Purchased from: Marzi & Remy, Simon Peter Gerz I, Tiffany & Co., Gebrüder Bing Felsenstein & Mainzer Theodor Wieseler,

Reference: Character Steins Uni Heidelberg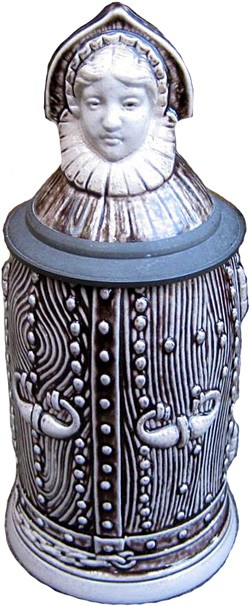 0.5 litre "Iron Maiden of Nuremberg" by Merkelbach & Wick on special order for Theodor Wiesler and subsequent retailed by GG. Leykauf.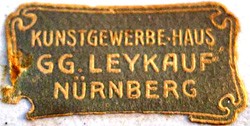 Paper label for Kunstgewerbe-Haus GG. Leykauf on the base of the Iron Maiden stein which also had the impressed T.W. for Theodore Wiesler.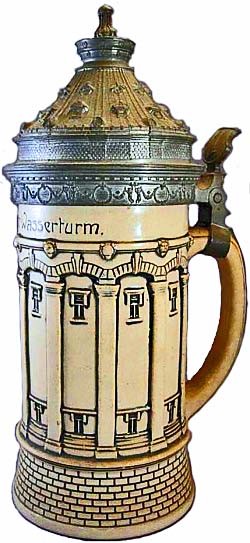 Mannheim Water Tower. Mannheimer Wasserturm. Attributed to Simon Peter Gerz.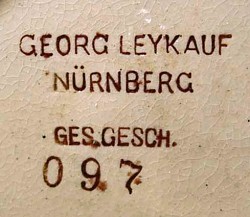 Impressed mark from Mannheim Water Tower. Mannheimer Wasserturm.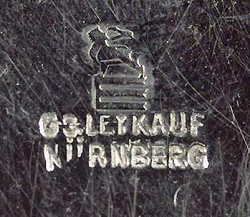 Cast mark on pewter lid.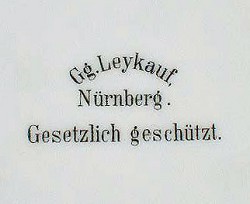 Ink stamp on porcelain non-lidded stein.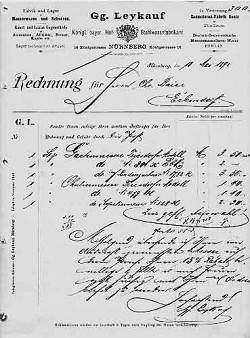 Invoice from 10th May, 1892.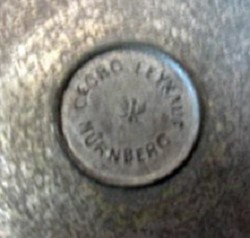 Cast mark on pewter lid.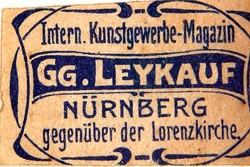 Paper label on the base of a Mettlach 0.5L St Florian stein #1786.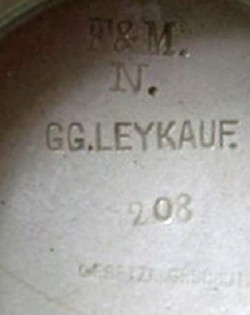 Stein manufactured by Marzi & Remy, lid added by Felsenstein & Mainzer & finally sold by Gg.Leykauf.

This 1.0 L stein represents one of the Nuremberg towers, namely the Frauentorturm, rebuilt to its present form in 1558, to guard the Frauentor (gate). This tower is unique due to its arched windows and round, top window. In 1849 the city wall was opened up close by, and a new gate, the Königstor was built for traffic access to the railway station. Due to essential road widening, the Königstor was demolished in 1892. Because of its proximity to the Königstor, the Frauentorturm was, and still is, often wrongly referred to, as the Königstorturm. Today, the Frauentor has pedestrian access only. This stein is usually attributed to Merkelbach & Wick.
Close up of lid, in this case with the weather-vane finial and the Nürnberger Gänsemännchen (Gooseman) thumblift.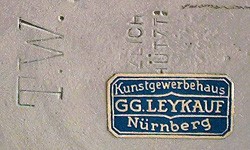 The stein body is normally attributed to Merkelbach & Wick, was in this case made for Theodor Wieseler, presumably lidded by Felsenstein and Mainzer and subsequently sold by Georg Leykauf.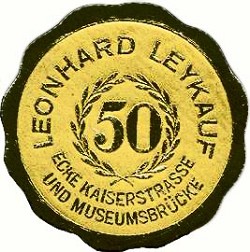 Leonhard Leykauf's business start date is known to be 13th July 1882. This therefore dates this sticker to the year 1932.

Prager Kunstsalon, now occupying the premises of Leonhard Leykauf at Hauptmarkt 16. Both photographs were taken September 2012.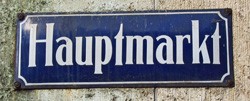 Prager Kunstsalon, now occupying the premises of Leonhard Leykauf at Hauptmarkt 16. Both photographs were taken September 2012.