Swaine & Co.

Hüttensteinach and Köppelsdorf. Thuringia.
Hersteller / Manufacturer.
Swaine & Co. was founded in 1854, then in 1920, merged with Gebrüder Schoenau Co. (founded as Greiner und Künzel, in 1817) to become Porzellanfabrik Gebrüder Schoenau, Swaine & Co. o.H.G. with nine kilns produced porcelain, electrical engineering, utility and luxury tableware. They were unsuccessfully taken to court by the Royal Delft Pottery for producing a range of Delftware, marking it Delph. They did however stop using the Delph mark. After around 1930 they ceased producing domestic wares and were only involved in industrial ceramics, in both factories.
In 1953, the company was nationalised and renamed VEB Sonneberg Porzellanfabrik. Closed ca. 1990.
They made items for the Vereinigte Werkstätten für Kunst im Handwerk A.G.
The following designers either designed the pottery for Swaine & Co. or put their decoration on standard pieces:
Theodor (Herrmann) Schmuz-Baudiss
Reference: Hüttensteinach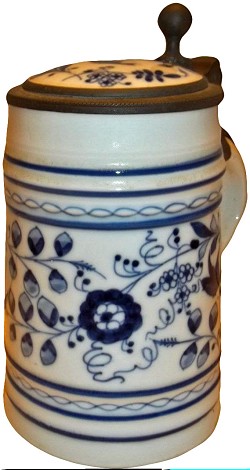 Blue onion style stein, dated 1900 - 1920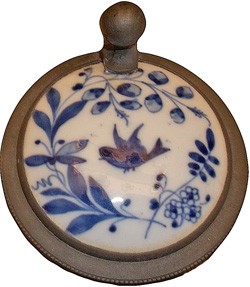 Lid of the featured stein above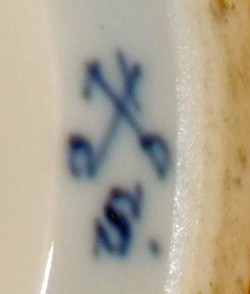 Basemark of the featured stein above. This identification is by Keramik-Marken Lexikon, however the author should point out the similarity to Eduard Liebmann Porzellanfabrik K.G.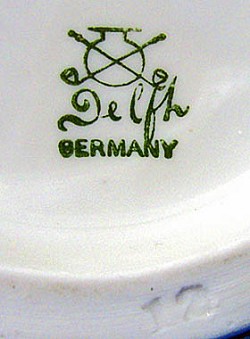 Ink stamped mark, together with impressed "12", dated post 1920.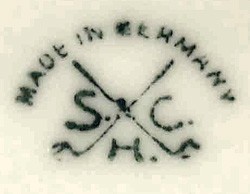 Shonau Co. Hüttensteinach, dated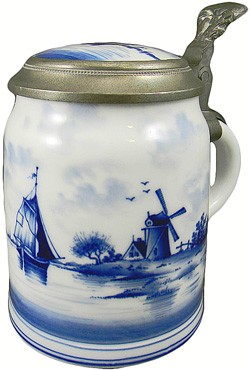 Post 1920 porcelain stein #6 decorated in cornflower blue and white.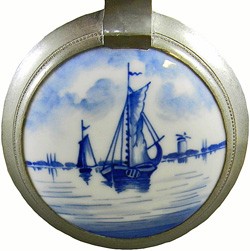 Lid with porcelain insert on featured #6 stein above.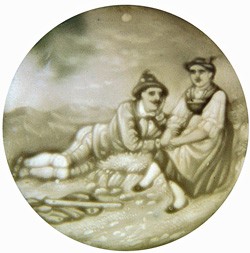 Lithophane forming the base of the featured stein #6 above.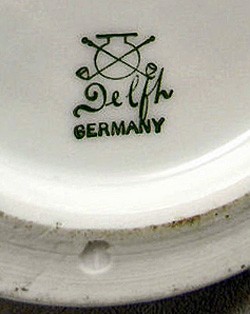 Base ink stamp, dated post 1920, together with impressed "6", on featured stein above.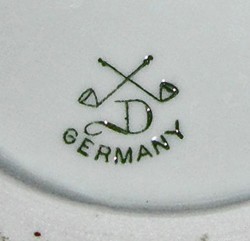 Impressed and ink filled mark. Thought to be post Royal Delft Pottery court case, therefore dated circa 1925 - 1930.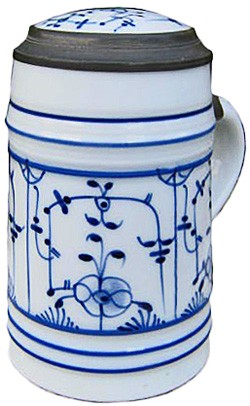 Pre 1920 porcelain stein decorated in "cornflower" blue and white.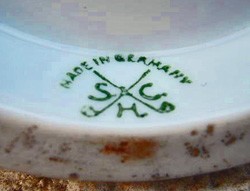 Basemark on featured stein above showing crossed pipes, together with Shonau Co. Hüttensteinach, dated