Vereinigte Steinzeugfabriken von Höhr-Grenzhausen und Ransbach G.m.b.H
Grenzhausen & Ransbach, Hesse-Nassau, Prussia. (now Höhr-Grenzhausen und Ransbach-Baumbach, Rhineland-Palatinate).
Founded as a trade association, initially named as Vereinigte Steinzeugfabriken Grenzhausen G.m.b.H., it assumed its full name on the 26th February 1919.
Membership from 1909:
Otto Blum, Reinhold Corcilius, Karl August Mennigen, Albrecht Merkelbach, Karl Merkelbach III, Reinhold Merkelbach, Walter Merkelbach, Merkelbach & Remy,
Walter Müller Inhaber Müller & Werner, Karl Wilhelm Remy, August Wilhelm Strödter, Wilhelm Strödter, Arnold Max Wortmann.
Reference: Westerwald Adressbuch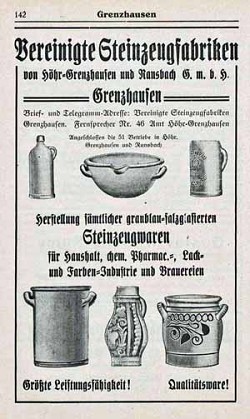 (Click to enlarge) Advertisement dated from 1919.