Walter Müller / Walter Müller Inhaber (Müller & Werner).

Bergstraße* 4, (known as Höhenstraße from 1936), Grenzhausen, Hesse-Nassau, Prussia. (now Höhr-Grenzhausen, Rhineland Palatinate).
* There remains a Bergstraße, in what was the old village of Höhr.
Steingut- und Steinzeugfabrik / Earthenware and stoneware manufacturer.
The company was founded in 1858, with a product range that was based on every-day earthenware household items. Walter's son Erich Müller (b.23rd April 1889) after a two year course, passed his examinations in 1907, at the Königliche Keramische Fachschule in Höhr. So by 1st January 1908, Walter Müller, with the help of the merchant Wilhelm Werner of Grenzhausen opened an additional new stoneware factory, to be run by Erich, who also contributed some designs to the range. The new organisation was renamed Walter Müller Inhaber (Walter) Müller & (Wilhelm) Werner. On the 15th December 1909 the enlarged company became one of the founding members of both the Vereinigte Steinzeugfabriken Grenzhausen G.m.b.H. and in 1911 Steinzeugwerke Höhr Grenzhausen GmbH trade organisations, but had left both, by or during 1912, due to being financially insolvent. Walter Müller had to retire because of his age and Erich, who had no wish to continue in the business, was conscripted into the army in 1914. So on the 15th April 1914, when Wilhelm Werner left the company, production finally ceased. The company name was then used for various commercial transactions, but by 1918 had been de-registered and the assets sold to Steinzeug-Industrie G.m.b.H.
They purchased designs from: Karl Görig, Bruno Mauder, F. Gustav Partz, Albin Müller, Wewerka, Neidhart, Erich Müller,
Reference: MySteinCollection
Müller & Werner #655. Dec.48. Dated 1912 - 1914.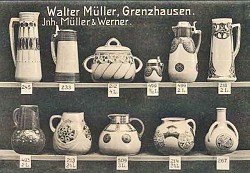 Page 14, from a catalogue, thought to be dated October 1908. Click to enlarge!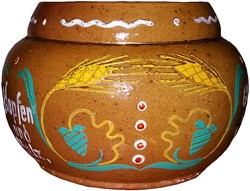 Müller & Werner #655. Dec.48. Dated 1912 - 1914.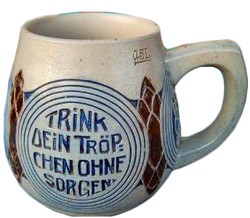 Walter Müller (Inhaber Müller & Werner) #106 Designed by Joseph W. Wewerka for the October 1908 catalogue.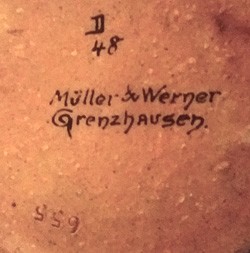 Müller & Werner #655. Dec.48. Dated 1912 - 1914.